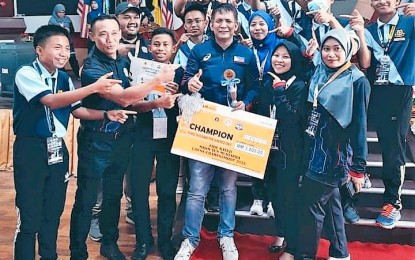 MANILA – Filipino Grandmaster Rogelio "Joey" Antonio Jr. is planning to join the 30th FIDE World Senior Championship scheduled from Nov. 14-27 in Assisi, Italy.
The competition, which will be held in the conference center of the Cenacolo Hotel/Casa Leonori in Santa Maria degli Angeli, features 50+ and 65+ age categories in both Open and women divisions. The champion will receive a trophy, gold medal and cash prize.
"I am looking forward to playing in Italy and hopefully, get good results," said the 60-year-old Antonio in an interview on Thursday. During the 2017 World Senior Chess Championhip in Acqui Terme, Italy, he finished second to Grandmaster Julio Granda of Peru in the 50+ category.
Antonio was happy to share his title victory in the RSM Tun Mustapha Championship Tawau held on September 17-18 in Sabah, Malaysia.
"I was invited by the organizer of the tournament. I am glad to win my first international over the board tournament this year," said Antonio. "But I had won many online tournaments. I am the world record holder in playing online chess, about 160,000 games."
Right now, the 13-time national champion has an ELO rating of 2397 which he wants to improve.
"I want to join more tournaments in Europe next year to improve my rating. I will also play in the Asian Games," said Antonio, who won the team silver medal with Eugene Torre, Wesley So, John Paul Gomez and Darwin Laylo in the 2010 Asian Games in Guangzhou, China.
Antonio is a veteran of 11 Chess Olympiad. He has competed in the Asian Individual Chess Championship six times and the Asian Team Chess Championships five times. He also joined the FIDE World Cup in 1999.
Antonio was born in Santa Mesa, Manila. He studied computer science in University of Manila. (PNA)