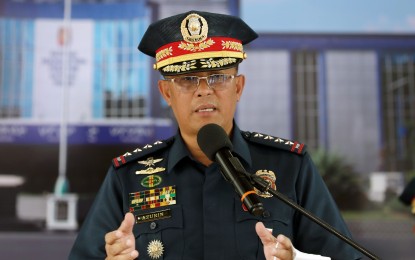 MANILA – The Philippine National Police (PNP) announced on Thursday that it continues to block disinformation attempts on social media which include posts on fake crime incidents that continue to be reposted online and cause undue panic and fear.
In a statement, PNP chief, Gen. Rodolfo Azurin Jr., said the Anti-Cybercrime Group is conducting its own investigation to gather more inputs to support its request for social networking giant Facebook to permanently take down posts that have been fact-checked as "fake news".
"Please always be mindful of the authenticity of the information and the credibility of its source. Unverified information or any information that cannot be independently validated as factual should always be dealt with caution and prudence, especially if the source is dubious or unknown," Azurin said in a statement.
A 2017 post on Facebook about the alleged discovery of a dismembered body in Quezon City has been proven by the Quezon City Police District (QCPD) to be a hoax.
Just recently, the same post was reposted and shared by some netizens.
For his part, National Capital Region Police Office (NCRPO) chief Brig. Gen. Jonnel Estomo said they have been exerting efforts to respond to the veracity of the alleged viral information posted on social media.
He said the QCPD extracted optimum efforts to validate the existence of the said incident five years ago but turned out that the negative reported incident was well established pertaining to this viral issue.
"The same was also denied by then QCPD District Director Gen. Guillermo Eleazar (now retired chief PNP) in an answer posted also in social media. Amid the issue, QCPD in coordination with Anti-Cybercrime Group is now investigating who is the alleged spreader of this fake news," Estomo said in a separate statement.
Estomo urged netizens to be wary of posting and sharing fake news on their respective social media accounts.
"Time and again, we are giving stern and strict warning to those who are uploaders of fake news that if they are found to be responsible on matters such as this mess, a full force of the law will be accorded to them. We appeal to the public to be calm and avoid panic because the viral information is not true and never happened. Nonetheless, we further call to the public to report to us immediately any information pertaining to this fake news uploaded and rest assured that NCRPO will run after them," he added. (PNA)