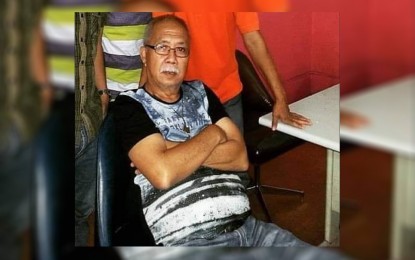 MANILA – Jose "Joe" Antonio, the long-standing sports editor of People's Journal, passed away Wednesday night. He was 69.
His remains lie at Loyola Commonwealth, second floor Diligence room, according to the Philippine Sportswriters Association (PSA) statement posted on its Facebook page.
A proud son of Cabiao, Nueva Ecija, Joe was passionate with sports growing up most especially with baseball and the Tour of Luzon cycling.
He took up BA Marketing at the University of the East while juggling his time as a working student at Puyat undergarments.
"But Joe would be lured by sportswriting later on when he chanced upon an announcement inviting students to take exam and join the Weekly Dawn while passing by one day at the office of the school's official organ," the PSA statement read.
He honed his craft as member staff of the organ, who later on was promoted sports editor, and eventually, became its managing editor.
A vacancy at the Times Journal launched Joe's sportswriting career in 1976 under the late sports editor Gus Villanueva, and spent the next 10 years with the newspaper covering various sports, from basketball, baseball, cycling, marathon, boxing, athletics, among others.
Antonio briefly worked with Tempo and Manila Times in the early post-EDSA era, before coming back home to the Journal family after being invited to serve initially as assistant sports editor of the widely-read People's Journal.
In 1987, he officially became sports editor of the PJ sports section, which he turned into a can't-miss reading habit behind its catchy headlines, superb layout, and easy-to-read stories.
Simple, down-to-earth, and a friend to everyone, Antonio loves horseracing and an avid fan of the late action king Fernando Poe Jr. who uses the pseudonym Daniel Barrion.
He was sports editor for 35 years until the time of his death.
Antonio is survived by wife Lita Antonio, son Steve Ovett, daughter in-law Princess Anne, and grandchildren Anthony James and Andre Stephen.
Interment will be at the Forest Park Memorial on Sunday.
Sportwriting's giant
Current PSA president Rey Lachica considers Antonio as one of sportswriting's giants.
"Sir Joe Antonio I'm going to miss you. We are deeply saddened. Thanks for everything. Paalam. Mahal ka namin (Farewell. We love you). The sportswriting fraternity lost one of its giants. An extraordinary person. A constant provider of energy to PSA family," said Lachica, currently the sports editor for Tempo, in a Facebook post.
Ed Andaya, the current sports editor of the Journal's sister publication People's Tonight, thanked Antonio for being one of his mentors in his long stay with the Journal Group of Publications.
"Thank you for being an inspiration in all my years as a sportswriter. Thank you for all the never-ending encouragements and brotherly advice during our more than three decades together as seatmates at the Journal Group of Publications. Thank you for always being there. You will be missed, Sir Joe Antonio," Andaya said.
Andaya, also one of the hosts of the Sports On Air Weekly podcast, began Thursday's episode by offering a minute of silence for Antonio.
"Very sad news. The Philippine sportswriting industry just lost another pillar," added The Market Monitor's Jesse Ong.
According to daughter Kathryn, Antonio's wake will be held at the Loyola Memorial Chapel in Commonwealth Avenue, Quezon City. (PNA)