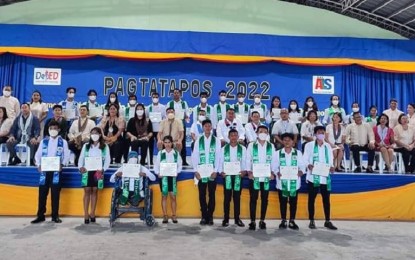 ILOILO CITY – Over 13,000 learners from Western Visayas who, for various circumstances, were unable to pursue formal classes in elementary and secondary schools were able to graduate during the school year 2021-2022 through the alternative learning system (ALS).
"ALS is a way to give education to our learners who are not members of the formal schooling or the basic K to 12 Program. As completers, they can look for decent jobs or proceed to formal school," said Department of Education (DepEd) information officer for Western Visayas, Hernani Escullar Jr., in an interview on Thursday.
DepEd data showed that for the previous school year, there were 12,009 completers for junior high school (JHS) and 1,572 for basic elementary education spread in 21 schools divisions in Western Visayas.
Initial information said the oldest completer was a 74-year-old female from Roxas City.
"The highest completers were from the schools division of Negros Occidental with 2,311 completers, followed by schools division of Iloilo province with 1, 401 and of Iloilo City with 1,190 for the secondary level," Escullar said.
For elementary level, the schools division of Negros Occidental still has the highest completers with 283, followed by Iloilo province with 156, and schools division of La Carlota City with 137.
Escullar said upon enrolment, the applicants were assessed and classified for their suited grade level.
Then the learners are given schedules at their own pace so they can complete their schooling.
"On August 22 (2022) they have just completed their presentation portfolio assessment (PPA) that serves as basis for them to become completers," he said.
Completers of JHS may opt to look for jobs or proceed to senior high school (SHS) for them to have a diploma.
Currently, 48 schools in the region have been piloted for the ALS SHS.
Elementary completers may proceed to JHS either in formal school after an assessment or remain with ALS.
Republic Act 11510 or the Alternative Learning System Act mandates the opening of alternative education to out-of-school children in special cases, out-of-school youths, and out-of-school adults to include indigenous peoples, those with learning disabilities, teenage mothers, socio-economically disadvantaged learners, children-in-conflict with the law, persons deprived of liberty, rebel returnees, learners in an emergency situation and other marginalized sectors who were unable to participate in formal schooling and have not completed their basic education, Escullar added. (PNA)