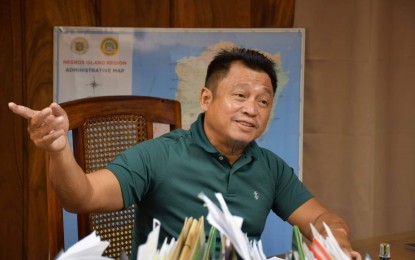 DUMAGUETE CITY – Negros Oriental Governor Pryde Henry Teves has ordered a temporary suspension on the gathering and transport of garden soil and plants from two barangays in Valencia town following the discovery of symptoms of Fusarium wilt.
Teves issued Executive Order (EO) No. 28. Series of 2022 on Wednesday which was shared to the media on Thursday by the Capitol Public Information Office.
Fusarium wilt is a disease caused by a soil-borne fungus that infects the root system of the plants and crops, the governor's EO said.
He noted that the fungus, Fusarium oxysporum f. sp. cubense, can be transmitted unnoticed from the host through infected seedlings, soil, and garden equipment.
The Fiber Industry Development Authority (FIDA)-Negros Oriental has observed that banana and plant production in the said barangays was affected by the disease.
To prevent the potential spread of the disease to nearby towns, affecting banana and abaca productions such as in Sta. Catalina, Siaton, and Pamplona, the governor ordered the strict prohibition of gathering and/or usage of soil from the said villages.
The prohibition also includes the selling, transporting, and bringing of plants and garden/plant equipment outside of Lunga and Apolong.
Teves likewise ordered the non-entry of potted plants and seedlings from the Davao areas/region that contain soil as its medium.
Likewise, he mandated the mayors to strictly enforce the order and undertake information and education campaigns through their respective agriculture offices. (PNA)