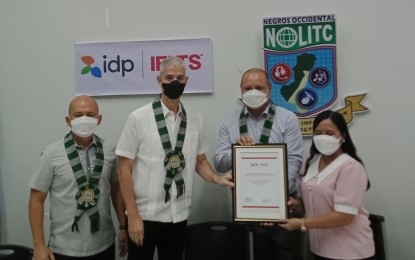 BACOLOD CITY – The province of Negros Occidental launched on Thursday the first shared laboratory in the Visayas that will provide a computer-delivered International English Language Testing System (CD-IELTS) examination.
Partnering with the IDP Education Limited-Philippines, the Capitol-run Negros Occidental Language and Information Technology Center (NOLITC) has been designated as the official public test venue partner and referral agent in this city until June 30, 2025.
Governor Eugenio Jose Lacson said the IELTS has usually been administered on paper, but with the rising advocacy to go paperless, and the need for digitalization, computer-based examinations have become necessary.
"This development, which makes IELTS more accessible, will greatly aid Negrenses, and those from nearby provinces, in the pursuit of their study, work, or migration goals," he added.
The NOLITC-IDP linkage paved the way for the opening of the sixth CD-IELTS laboratory in the Philippines.
Lacson said the innovative program aligns with his administration's priority to expand education-related programs to make learning inclusive and accessible to all.
IDP country director Jose Miguel Habana said the volume of IELTS tests has grown significantly each year, and for 2022 alone, the market is expected to grow by 8 to 10 percent.
"Definitely, post-pandemic a lot have started pursuing their overseas aspirations, with borders opening up. That's why we really see a lot of demand especially in the Visayas," he added.
Habana said the most popular takers of the IELTS examination are nurses seeking employment in English-speaking countries like New Zealand, Australia, Canada, the United States, and the United Kingdom.
Ma. Cristina Orbecido, NOLITC vocational school administrator, said those taking the CD-IELTS at the shared laboratory in the Negros First Cyber Centre could access review classes which could be helpful since the examination was quite challenging.
"The exam is a test of one's proficiency in four areas – reading, writing, listening and speaking," she added.
Orbecido said the results of the CD-IELTS test could be released in just three days while those of paper-based examination are usually available after two weeks. (PNA)