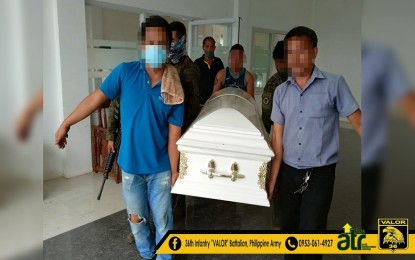 BUTUAN CITY – The remains of slain communist New People's Army (NPA) leader Noel Tumarlas Alacre were turned over to his immediate family, the military's 36th Infantry Battalion (36IB) here said Thursday.
In a statement, the 36IB said the rebel's remains were handed over to his sister, Annie Tumarlas Alacre, on Wednesday.
"Members of the family brought Alacre's remains from a funeral parlor in Cantilan, Surigao del Sur, to San Luis, Agusan del Sur where he will be laid to rest," the military said.
The 36IB, together with the Cantilan town government, also helped Alacre's family secure clearances and a death certificate, as well as paid expenses for transporting Alacre's remains to their hometown.
The body of Alacre, the commanding officer of Platoon 2 of the weakened NPA Guerilla Front 30, North Eastern Mindanao Regional Committee, was recovered by the 36IB and the police along the riverbank in Barangay Maitom, Tandag City on Sept. 16.
The day before, 36IB troopers pursued Alacre and his group after they burned four motorcycles in Maitom. They were forced to cross the strong water current of the Tandag River to evade government troops.
The 36IB called on the remaining communist NPA rebels in the area to surrender so they can change their lives for the better.
"The government is always open to welcome you back and help you recover in preparation for your reintegration into your families and communities," the 36IB said.
The Communist Party of the Philippines-NPA is listed as a terrorist organization by the United States, the European Union, the United Kingdom, Australia, Canada, New Zealand, and the Philippines.
The National Democratic Front was formally designated as a terrorist organization by the Anti-Terrorism Council on June 23, 2021, citing it as "an integral and inseparable part" of the CPP-NPA created in April 1973. (PNA)