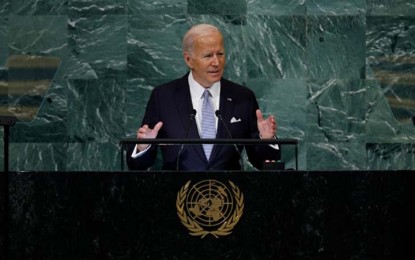 Biden calls for UN reform with world body paralyzed over Russia war
NEW YORK – US President Joe Biden on Wednesday called for an expansion of the United Nations (UN) Security Council among other reforms, as the world body tasked with advancing peace faces increasing challenges to address the war in Ukraine waged by veto-wielding member Russia.
Biden's speech before the UN General Assembly was welcomed by Japan, which has long aspired to become a permanent member of the 15-member council. While details remain unclear, Washington may be viewing Japan, India and Germany as potential candidates to be elevated.
Russia's ongoing war in Ukraine has underscored the dysfunction of the UN Security Council, which is dominated by the five veto-wielding permanent members -- Britain, China, France, Russia and the United States -- all of which are nuclear weapons states.
Speaking at the UN headquarters in New York, Biden slammed Moscow for "shamelessly" violating the core tenets of the UN Charter, which enshrines sovereignty and territorial integrity, and making "overt" threats to use nuclear weapons.
"A permanent member of the United Nations Security Council invaded its neighbor," he said. "This war is about extinguishing Ukraine's right to exist as a state, plain and simple...Whoever you are, wherever you live, whatever you believe, that should make your blood run cold."
While urging each UN member to stand with Ukraine as the charter's foundational idea of a "stable and just rule-based order" is under attack, Biden also said he believes the time has come for the United Nations to become "more inclusive so that it can better respond to the needs of today's world."
To ensure that the council remains credible and effective, members including the United States should "refrain from the use of the veto, except in rare, extraordinary situations," Biden said.
The United States also supports increasing the number of both permanent and nonpermanent representatives on the council, a reform that would include "permanent seats for those nations we've long supported" and those in Africa, Latin America and the Caribbean, he added.
A senior Biden administration official told reporters that the United States continues to stand behind the idea that Germany, Japan and India should be permanent members of the Security Council.
Japan, a close US ally, has repeatedly been elected to a nonpermanent seat on the council. Brazil, Germany, India and Japan form the Group of Four countries that aspire to become future permanent seat holders on a restructured council.
During a brief conversation with Biden on the sidelines of the UN event, Japanese Prime Minister Fumio Kishida welcomed Biden's call for UN reform and the two leaders agreed to continue to cooperate on the issue, according to the Japanese government.
The Biden administration, meanwhile, is also casting a wary eye on another permanent member, China, which has often teamed up with Russia to veto and is allegedly attempting to undermine the rules-based international order.
In his speech, Biden accused China of conducting "an unprecedented, concerning nuclear buildup without any transparency," and vowed to promote peace and stability around Taiwan, a self-ruled democratic island that Beijing views as a renegade province awaiting reunification, by force if necessary.
Concerns linger that Taiwan could become the "next Ukraine," with China increasing its military and diplomatic pressure on the island. China and Taiwan have been governed separately since they split in 1949 due to a civil war.
Biden reiterated Washington's stance of continuing to "oppose unilateral changes in the status quo by either side."
Traditionally, the US president, as the leader of the world body's host country, speaks only after the Brazilian leader on the first day of the annual UN high-level general debate.
But Biden's speech schedule was pushed back to the second day this year as he attended the state funeral of Britain's Queen Elizabeth II in London on Monday.
The president also announced over USD2.9 billion in new US government assistance to tackle global food insecurity, exacerbated by supply chain disruptions and higher food prices on the back of Russia's war in Ukraine that began in February. (Kyodo)