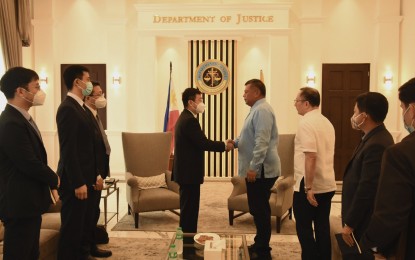 MANILA – Department of Justice (DOJ) officials met with Chinese embassy representatives on Thursday to map out an exit plan for the repatriation of overstaying Philippine Overseas Gaming Operations (POGO) workers back to China.
DOJ Secretary Jesus Crispin Remulla met with Zhou Zhiyong, Chargé D'affaires Ad Interim of the Chinese Embassy in Manila at the DOJ compound in Manila.
Remulla said among the matters discussed was the possible timeline for the repatriation with an initial batch of individuals awaiting deportation with the first hurdle being the identification of overstaying individuals.
"We are verifying the identities and if the identities match then they (China) will start accepting those to be sent home for being overstaying," Remulla said.
"Right now, we have less than 300 in custody but we expect more to be there for deportation later on kapag nag all out tayo, kasi (if we go all out as) we are collating a lot of information now, we are doing surveillance (and) we are a democratic state, we will obey the law," he said.
Remulla underscored that the government will be undertaking a thorough investigation in determining who are considered illegals in the country.
"I think that we are talking about illegal POGOs there, syempre yun muna ang ating titingnan kung illegal (of course, that's the first thing we'll look at if they are illegal), and of course, we are still collating other complaints about the different POGOs that are here kasi kinakailangan talaga natin malaman ang mga nangyayari (we need to know the facts), kasi di tayo pwede padalos-dalos (and we will not act rush), we have to have complete information every time we move against people," he added.
The first batch of possible deportees involving around 300 individuals is expected by end of this month or first week of October will include those who have been involved (or) implicated in crimes which are undergoing investigations.
"It cannot happen overnight, we have to validate information, we have to ask them to validate it themselves," the DOJ chief said. (PNA)