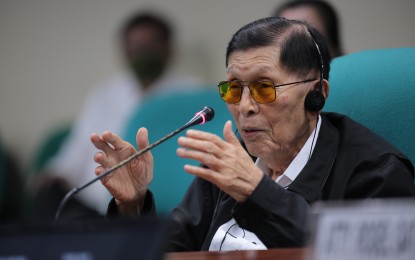 MANILA – The declaration of martial law on Sept. 21, 1972 practically "wiped out" the communist movement in the Philippines like a storm, Chief Presidential Legal Counsel Juan Ponce Enrile said on Wednesday.
Enrile, who served as martial law administrator, maintained that military rule was successful in suppressing communist insurgency during the Senate hearing of the Committee on Constitutional Amendments and Revision of Codes.
The Senate panel hearing coincided with the 50th anniversary of former President E. Marcos Sr.'s declaration of martial law.
"Natakot sila. Parang bagyo na lumipas iyong movement ng mga kuwan [komunista] na iyan. Nahuli na lahat namin sila (They were scared. The communist movement was wiped out like a storm)," Enrile said, naming Communist Party of the Philippines (CPP) founder Jose Maria Sison and other individuals arrested during martial law.
He blamed former President Cory Aquino for releasing imprisoned members of the CPP, including two of its top leaders.
Enrile, also a former Justice secretary, said martial law was declared because "conventional methods" of dealing with peace and order in the country would not work to defeat the communist movement in the Philippines.
"Ang sinasabi ng 1935 Constitution at 1973 Constitution 'pag nakita mo na at na-che-check mo sa sarili mong desisyon ng bansa mo ay namimiriglo na sasalakayin o wawasakin ng insurekto o ng rebelyon, gumalaw ka na, gamitin mo ang kamay na bakal (The 1935 and 1975 Constitution says that if you can see that the country is in danger of being attacked or destroyed by an insurrection or a rebellion, move now, use an iron fist)," he said.
He said people failed to see the wisdom of declaring martial law because the government was working "quietly".
"Hindi kami madadaldal, Mr. Senator. Quiet lang kami noon…Kaya nung isang gabi, nag-operate kami, hinuli namin lahat sila, sinarhan namin ang buong Pilipinas, kinontrol ko ang komunikasyon pati ang cable to reach out to the other world. Lahat ng television stations sinikwester ko (We didn't talk about it. We were just quiet…But one night, we conducted operations, we arrested them all, we shut down the entire Philippines and controlled all forms of communication. I also sequestered all the television stations)," he added.
Enrile said it was also during martial law when the confiscation of firearms was implemented as part of efforts to suppress all forms of lawless violence as well as any act of insurrection or rebellion.
Asked by the panel chair, Senator Robin Padilla, if martial law was really necessary to quash communist insurgency, Enrile said if military rule had not been declared, the Philippines might have turned into a communist state like North Korea.
"Responsibilidad ng estado na pangalagaan ang kalayaan ng bawat isa't-isa sa atin (It is the responsibility of the state to protect the freedom of every one of us)," he said.
Enrile, meanwhile, said "imminent danger" as a ground for martial law should be restored in the Constitution.
Marcos signed Proclamation No. 1081 on Sept. 21, 1972 placing the Philippines under martial law. He appeared on television on Sept. 23 at 7:15 p.m. to formally announce it.
Marcos' son and namesake, President Ferdinand "Bongbong" Marcos Jr., would echo his father's pretext for declaring martial law to "suppress the armed rebellion from two fronts."
"Martial law was declared because of the two wars we're fighting on two fronts and that is in the countryside, the CPP-NPA [Communist Party of the Philippines-New People's Army] was fomenting revolution. They wanted to bring down the government through violent means so the government had to defend itself. The second front was the secessionist movement down in the south led by MNLF [Moro National Liberation Front] and chairman Nur Misuari at the time, he started that uprising, the secessionist movement, and that eventually turned into violence and essentially war that was even supported," the younger Marcos said in a taped interview with TV host-actress Toni Gonzaga aired on AllTV Channel on Sept. 13, 2022. (PNA)