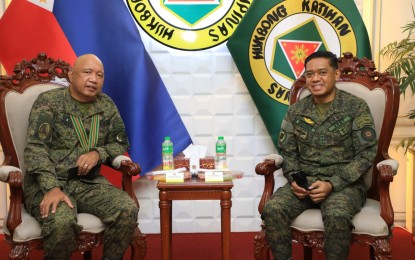 MANILA – Philippine Army (PA) commander Lt. Gen. Romeo Brawner Jr. commended outgoing Armed Forces of the Philippines (AFP) deputy chief-of-staff for personnel Maj. Gen. Adriano Perez for the efficient implementation of plans and procedures of all special staff and units in the military.
Brawner made this comment during the exit call of Perez to the PA headquarters at Fort Bonifacio in Taguig City on Thursday.
"The CGPA (Commanding General Philippine Army) commended Maj. Gen. Perez for guiding efficiently the plans, programs, policies, and procedures of the special and technical staff offices and units within the AFP," PA spokesperson Col. Xerxes Trinidad said in a statement Friday.
Brawner also recognized Perez for putting a premium on the morale and welfare of all AFP personnel within its leadership.
The AFP deputy chief-of-staff for personnel is set to bow out of service on Nov. 2 after 38 years of military service.
Perez, a member of the Philippine Military Academy Class of 1988, held key military leadership positions, including assistant chief-of-staff for personnel, G-1 of the 10th Infantry Division; commander of the 60th Infantry Battalion; assistant chief-of-staff for plans, G-5 of the PA; chief of the Army Governance and Strategy Management Office; and, head of the Office for Strategic Studies and Strategy Management, AFP, among other key posts. (PNA)