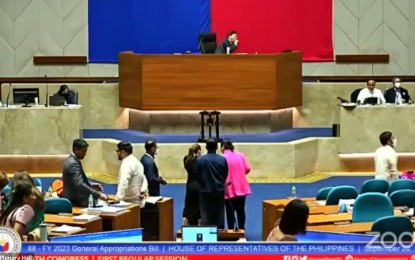 MANILA – The House of Representatives' plenary debates on the sponsorship of the PHP3.5-billion budget proposal of the newly created Department of Migrant Workers (DMW) concluded late Thursday.
It ended after the interpellation of House Assistant Minority leader and Gabriela party-List Rep. Arlene Brosas.

"What does the government do to help overseas Filipino workers (OFWs) in Saudi Arabia who recently lost their jobs because of the economic crisis that struck this nation in the Middle East?" Brosas asked.
Brosas pointed out that one of the OFWs' concerns was their pending claims over unpaid salaries and benefits, separation pay, as well as contract violations.
Quezon 2nd District Rep. David Suarez, Committee on Appropriations vice chair and sponsor of the proposed DMW budget, responded that the matter raised by Brosas was the reason why the government suspended the sending of OFWs to the kingdom.
Suarez said DMW Secretary Susan Ople has vowed to personally address the problem to make sure that similar incidents would not happen.
Ople has signed a new contract between the Philippine and the Saudi Arabian governments providing for more safeguards for OFWs.

"Ang lupon ng legal ay nakatutok na upang tugunan ang mga kaso at claim ng mga hindi nababayarang mga OFWs (The legal cluster is now focusing on the resolution of cases and claims of OFWs who are yet to get their pay)," Suarez said.
"Some of these have resolutions already. We can give you a detailed report on the individual cases of our OFWs in Saudi Arabia. On a good note, many of them have already been paid," he added.

The proposed DMW 2023 budget includes Overseas Employment Program with a PHP2.7 billion allocation; Overseas Employment Regulatory Program, PHP155.2 million; Labor Migration Policy and International Cooperation Program, PHP32.3 million; and Maritime Research and Skills Competency Programs, PHP76.8 million.
In a statement, Ople said the budget will ensure unhampered services for OFWs and thanked Congress for the swift approval.
"The DMW's 2023 appropriation allows it to provide effective and efficient services to its primary client group, the country's OFWs, ensuring a vigorous regulation and enforcement regime as well as sustaining capacity development and empowerment of migrant workers," said Ople, who is part of President Ferdinand Marcos Jr.'s official delegation to New York.
"The proposed budget also enables the department to expand its service menu to include e-governance and digitization and explore productive partnerships and linkages with a broad spectrum of public, private, and multilateral stakeholders," she added.
The DMW will implement a national reintegration program for returning OFWs, ensuring they thrive in their post-overseas labor journey and continue their role as architects of the country's economic development, Ople said. (PNA)