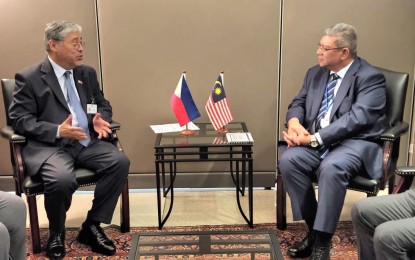 MANILA – The Department of Foreign Affairs (DFA) is looking forward to continued engagements with Malaysia and the United Arab Emirates following a meeting between DFA chief Enrique Manalo and his counterparts on the sidelines of the 77th United Nations General Assembly on Friday.
Manalo and Malaysian Foreign Minister Dato' Sri Saifuddin Bin Abdullah cited the "strong ties" between the two nations while discussing the role of the Association of Southeast Asian Nations in promoting regional security.
Manalo acknowledged Malaysia's contribution to the peace process in Mindanao, adding that he looks forward to continued engagement with Malaysia in other aspects of the bilateral relations.
Malaysia ranked as the Philippines' 10th major trading partner and 15th top investment partner in 2021. The DFA said Malaysia is particularly interested to collaborate with Manila in the digital economy.
Meanwhile, Manalo and Sheikh Abdullah Bin Zayed Al Nahyan, Minister of UAE Foreign Affairs and International Cooperation, discussed new and existing areas of cooperation including labor relations, trade and investment, tourism, and agriculture, among others.
Manalo then expressed appreciation for the UAE's efforts to improve the living and working conditions of Filipinos in the country.
The top diplomat is part of the Philippine delegation to the UNGA led by President Ferdinand Marcos Jr.
Aside from the two countries, Manalo had also met with his counterparts from South Korea, Norway, Finland, and Hungary. (PNA)