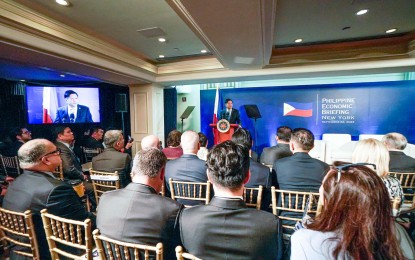 MANILA – The Philippines' economic team discussed with American business leaders and investors the country's key initiative reforms to revitalize the economy amid the coronavirus disease 2019 (Covid-19) pandemic.
Finance Secretary Benjamin Diokno, Bangko Sentral ng Pilipinas Governor Felipe Medalla, Socioeconomic Planning Secretary Arsenio Balisacan, and Budget Secretary Amenah Pangandaman presented vital structural and budget reforms that would help reinvigorate the Philippine economy during the Philippine Economic Briefing (PEB) Thursday night (Manila time) at The Carlyle Hotel in New York City,
Diokno said structural reforms would establish a "business-friendly environment" for domestic and foreign investors.
"Our economic liberalization measures swing the doors open for international firms to invest in previously protected sectors -- I call this a 90-year project -- and you can now form joint ventures with Filipino companies," Diokno said.
He added that enterprises using advanced technologies would benefit the most from the new laws that push for economic liberalization, which include amendments to the Retail Trade Liberalization Act and the Foreign Investments Act.
Amendments to the Retail Trade Liberalization Act have simplified the requirements for foreign retailers, while revisions to the Foreign Investments Act provide flexibility and transparency in the review of Foreign Investment Negative List.
Pangandaman, on the other hand, shared the Marcos administration's priority budget measures, including digital infrastructure and digitalization of the public financial management system.
Some of the major digitalization expenditures in the proposed 2023 national budget are the Department of Information and Communications Technology's National Government Data Center Infrastructure and National Broadband Plan, and the Department of Trade and Industry's Exports and Investments Development Program and the Board of Investments' Investment Promotion Program for the registration and supervision of investment projects.
"We have an existing Executive Order (EO) No. 170 that will encourage all government payments and disbursements to be in digital format. As of now, we're already preparing the implementing rules and regulations," Pangandaman said.
EO 170, inked by former president Rodrigo Duterte on May 12, 2022, mandates the adoption of digital payments to facilitate the fast distribution of financial aid to beneficiaries.
Pangandaman assured potential US investors that they would be accorded with a conducive regulatory environment.
"We are open for business so let us all grow together," she said.
It was the second PEB held overseas by the Marcos administration.
The first was held during President Ferdinand Marcos Jr.'s state visit to Singapore on September 6 and 7.
The PEB in New York City was conducted in cooperation with Bank of America Securities, Goldman Sachs, Hongkong and Shanghai Banking Corporation Limited, SMBC Nikko Securities, Standard Chartered Bank, and UBS Group.
In his keynote addresss, Marcos enticed US business leaders to invest in the Philippines, which he touts as Asia's fastest rising economic star.
"The Philippines is a reliable host for international partnerships. The country's favorable business climate is shored up by the sound macroeconomic fundamentals and a clear roadmap for economic recovery and sustainable growth," the President said.
Marcos said the Philippines is on track to its strong recovery from the Covid-19 pandemic, citing key structural reforms that allow wider participation of strategic investors in more industries in the country.
"It is our belief that the Philippines is the smart investment choice and the best time to do business with us is now," he said.
Marcos intends to hold a series of dialogues with American companies to convince them to do business in the Philippines.
In a Facebook post on Friday, Marcos said he continues to hold business meetings with US-based firms in New York City to discuss possible partnerships that will help create more job opportunities for Filipinos.
After the PEB, Marcos met with executives of Procter & Gamble (P&G) and Sutherland.
P&G, one of the leading consumer goods manufacturers worldwide, started its operations in the Philippines over 80 years ago, its first international operations in the Far East.
To date, the Philippine office is the third oldest P&G subsidiary globally.
On the other hand, Sutherland Global Services is a business process transformation company established in 1986, offering an integrated portfolio of analytics-driven information technology services, back office, and customer facing solutions that provide support to the entire customer lifecycle.
Sutherland is one of the world's largest process transformation companies that serve global leaders in major industry verticals, spanning 60 locations across 19 countries. (PNA)