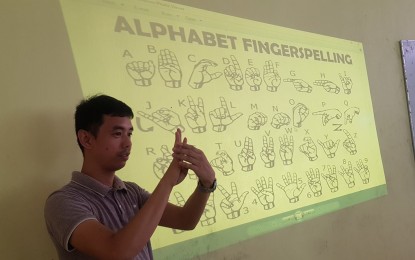 MANILA – Senator Sherwin Gatchalian wants to expand the training of teachers on Filipino Sign Language (FSL) even as he noted the "serious neglect" in the implementation of the law.
In a news release on Friday, Gatchalian said he filed Proposed Resolution No. 14 to look into the impact of using FSL as the language of instruction on deaf education.
He also wants a probe into the implementation of Republic Act No. 11106, or the FSL Act that mandates the FSL as the national sign language of the deaf of the government in all transactions involving the deaf and its use in schools, broadcast media, and workplaces.
The FSL Act's implementing rules and regulations were signed on Dec. 6, 2021, three years after the law's effectivity, Gatchalian said.
The lawmaker flagged the insufficient training of teachers on FSL, non-promotion of the licensing and mobilization of deaf teachers, and lack of FSL materials, which prevent deaf learners from improving their learning process.
He noted the non-submission of the annual report on the FSL Act's monitoring and implementation, which was supposed to be submitted by an Inter-Agency Council.
The Department of Education (DepEd) data for School Year 2019-2020 showed there are at least 28,740 learners diagnosed with a hearing impairment or manifested difficulty in hearing.
The lack of training resulted in deaf graduates failing the Licensure Examination for Teachers, which does not match the competencies for which they are prepared, according to the senator.
"It creates an institutional barrier for deaf graduates who end up as tutors with low-paying jobs instead of entering the educational system as teachers," Gatchalian said in a statement.
The law states that the DepEd, Commission on Higher Education (CHED), Technical Education and Skills Development Authority, and all other national and local government agencies involved in the education of the deaf must coordinate on the use of FSL.
FSL shall also be taught as a separate subject in the curriculum for deaf learners, on top of reading and writing of Filipino as the national language, other Philippine languages, and English.
The University of the Philippines, together with the Komisyon sa Wikang Filipino, professional sign linguistics and linguistics researchers, in collaboration with the CHED, DepEd, and the Early Childhood Care and Development Council, shall develop guidelines for the development of training materials in the education of the deaf for use by all state universities and colleges, as well as their teachers and staff. (With a report from Leonel Abasola/PNA)