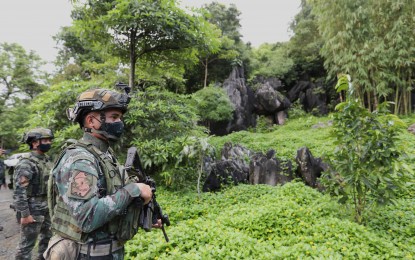 MANILA – Lawmakers in the province of Rizal, led by 2nd District Rep. Emigdio Tanjuatco III, on Friday filed a resolution calling for an investigation on the issues surrounding the Masungi Georeserve which they said has disrupted the peace and order situation in the province.
House Resolution 411, which is co-authored by Reps. Michael John Duavit (1st District), Jose Arturo Garcia Jr. (3rd District), and Juan Felipe Nograles (4th District), specifically urged the House Committee on Natural Resources to conduct an inquiry, in aid of legislation, on the alleged unauthorized and unlawful activities at the Masungi Georeserve.
"I thank my colleagues from Rizal for supporting our call to investigate the series of suspicious activities in Masungi Georeserve ranging from alleged land-grabbing, illegal fencing to alleged violation of environmental laws," Tanjuatco said.
The Masungi Georeserve is a conservation area situated in the Southern Sierra Madre range in the municipalities of Baras and Tanay, Rizal that surrounds the geological formations of the Masungi Rock, and is part of the Marikina Watershed Reservation. It is home to hundreds of species of flora and fauna.
A management contract was awarded by DENR to Masungi Georeserve Foundation Inc. through a memorandum of agreement.
READ: DILG awaits DENR guidance on Masungi row
Upon brief review of the MOA, it granted perpetual trust over parcels of land covered by Presidential Decree No. 324 and the Greater Masungi Karst in favor of the corporation. This raises questions in relation to Sec 2 Article 12 of the 1987 Constitution and has shown various inconsistencies with E-NIPAS (Expanded National Integrated Protected Areas System) Act.
In calling for the House probe, Tanjuatco cited incidents of violence in July 2021 and February 2022, wherein Georeserve Forest Rangers were attacked while carrying out their duties.
Last Sept. 18, more than 30 armed men, allegedly associated with a private security agency, encamped along the Marikina-Infanta Highway, between the Kaliwa and Marikina Watersheds.
Tanjuatco also noted that the reported construction of illegal fences along the premises of Masungi has restricted the rightful access of farmers and residents, affecting their livelihood and day-to-day activities.
"More alarmingly, indigenous peoples in the area have allegedly been displaced due to these illegal construction activities," the lawmaker said.
Since the incident, Tanjuatco has been regularly monitoring the Masungi situation and closely coordinating with the Rizal provincial government, environmental agencies, local government units and the Philippine National Police.
"Kaya nanawagan kami na magtulungan tayong bigyang liwanag ang mga issues sa Masungi. Siguruhin nating nasusunod ang batas para sa proteksyon ng kalikasan at mamamayan (That is why we are asking for a collective effort to shed light into the issues surrounding Masungi. Let's ensure that the laws are being followed to protect the environment and the people)," Tanjuatco said. (PNA)