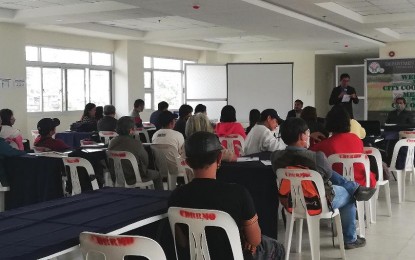 BAGUIO CITY – Residents here are encouraged to engage in urban agriculture for a sustainable source of food as the local government crafts the city's agriculture development plan.
Councilor Isabelo Cosalan, who chairs the committee on agriculture at the Baguio City council, said the city will come up with a development plan that is doable and will bring prosperity.
"Urban farming must be challenging but let us direct our hope to attain our goal of producing our food for our health and food sustainability and we will never go hungry," he said during the coordination meeting with the Department of Agriculture in Cordillera (DA-Cordillera) and the stakeholder-farmers on Thursday.
Since 2020, at least 3,000 city residents have been engaged in urban farming using small spaces and utilizing technologies that allow the production of food in pots.
With many residents producing vegetables at their homes, associations and cooperatives have also been formed to consolidate the excess production of the residents and sell these during the closure of Session Road on Sundays to allow the selling of micro, small and medium enterprises' products.
DA-Cordillera regional technical director for operations Danilo Daguio said "Baguio has the potential in terms of crop production although it is a highly urbanized city. There are parcels of land that can be developed as backyard level production areas and produce a little."
While the city's potential is not for commercial, he said the big number of residents who can produce their food will contribute to sustainability and boost food production in the country, which is the vision of the government under the leadership of President Ferdinand Marcos Jr. who is also concurrent Agriculture Secretary.
He said Baguio is a pilot area for the urban gardening program of the DA-Cordillera Administration Region.
"The short-term goal is to increase production to make food affordable and the long-term production is to satisfy the requirement and have surplus food for possible export," Daguio said.
Statistics show that Baguio has a total land area of 5,751 hectares, with 186 hectares currently being utilized for agriculture production.
Mayor Benjamin Magalong said in an earlier interview the city government aims to make Baguio an exporter of quality button mushrooms and a big producer of quality strawberries. (PNA)