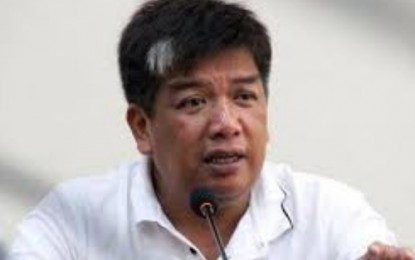 MANILA – Basilan Rep. Mujiv Hataman called on the Department of Health (DOH) to implement a long overdue upgrade of the Basilan General Hospital (BGH), which he said has been neglected for about 24 years already.
"Even though there is an implementing law mandating its upgrade from Level 1 to Level 2 in 1998, the hospital has suffered 24 years of neglect from the Department of Health, the agency tasked to oversee its enhancement," he said in a statement Friday.
"Sana naman ay pagtuunan na ito ng pansin sa 2023 budget at masimulan na ang pag-aayos sa susunod na taon (I hope that this will be given focus in the 2023 budget and that upgrades and renovations will start by next year)", he added.
In Thursday night's deliberation of the DOH budget, Hataman bared the existence of Republic Act 8543 which mandates the upgrade of BGH that was passed on Feb. 23, 1998. Up to now, BGH remains a Level 1 hospital, authorized to house only 25 beds.
For the first time in the plenary debates, Hataman moved to defer the approval of an agency's proposed budget under President Marcos Jr.'s first spending measure.
He stressed that at the rate it is going, the DOH seemed to have failed in its official mandate.
"It is our (Representatives') job to pass laws; it's is their (Department's) duty to implement the same," he continued.
"Kung ganito na katagal at hindi ginagawa, may problema na ang ahensya sa kanyang mandato. Trabaho natin ang gumawa ng batas, trabaho nila paano ipatupad ang batas … pero hindi natin naipatupad ang matagal nang batas. Bakit ganon ang DOH? (If the enforcement is long overdue, the agency has a problem with its mandate. Our job is to craft laws. Their job is to implement it. But the law has not been implemented for a long time. Why is the DOH like that?" Hataman told Marikina Rep. Stella Quimbo, who is one of the sponsors of the 2023 proposed national budget.
Hataman, a former governor of the now-defunct Autonomous Region in Muslim Mindanao (ARMM), said he will ask his colleagues in the House of Representatives to restore the BGH's budget for its upgrade that has been belatedly proposed by the DOH and heavily slashed by the Department of Budget of Management (DBM).
The exchange between Hataman and Quimbo started when the former found out, upon questioning, that the DOH has an unobligated fund of over PHP500 million under its Health Facilities Enhancement Program – or the money it uses to build health infrastructure – for the year 2022.
With a huge unobligated fund for 2022, Hataman asked why the DOH has not upgraded BGH since 1998.
According to Quimbo, the DOH estimated the upgrade to cost PHP50 million on top of the PHP36.5 million proposed budget for BGH. The DOH, she said, proposed a 2023 budget of PHP88.9 million for BGH, but the DBM only approved PHP55.5 million.
"Sana hindi na kinailangan na umaabot sa ganito na nailalabas pa namin ang aming frustration, kasama ng aming constituents, sa kapabayaan ng DOH. Siguro naman, after 24 years, pwede na tayong magreklamo na hindi magmumukhang demanding (I hope it will not reach a point like this where we have to vent out our frustration, together with our constituents, over DOH's neglect. I hope after 24 years, we can air our clamors without appearing like we are demanding)," Hataman said.
The Basilan solon highlighted the importance of higher-level hospitals, particularly during critical times when the coronavirus pandemic claimed many lives in Basilan Island.
Covid-19 victims, he said, needed to be transported to Zamboanga City for treatment if they are lucky enough to get accommodated while some victims died even before reaching Zamboanga City.
"Kaya nanawagan din tayo sa ating mga kasama sa Kongreso: ibalik sana natin ang pondong tinapyas ng DBM para sa upgrade ng BGH, 24 years itong napabayaan, sana naman ngayon ay magawa na natin (This is why we are calling on our colleagues in the Congress -- restore the funds slashed by the DBM for the upgrade of BGH. It has been neglected for 24 years, I hope we can do it this time)," the Basilan lawmaker said.
According to Quimbo, the DOH committed to facilitating the application for the license to operate for a 100-bed capacity for BGH by November this year. (PNA)