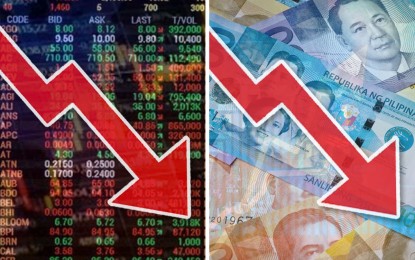 MANILA – Recession worries resulted in the local main stocks index ending the week below 6,300-level while the peso registered another record-low against the US dollar despite its sideways close on Friday.
The local currency again slipped to its new record low after closing the week at 58.5, which is little changed from its 58.49 finish a day ago.
It opened the day at 58.35, weaker than its 58.1 start in the previous session.
It traded between 58.5 and 58.25, resulting in an average of 58.349.
Volume declined to USD985 million from the previous session's USD1.51 billion.
Philippine monetary authorities said the local unit continues to be market-determined although the central bank will address any extreme volatilities in line with its financial stability mandate.
On Thursday, Bangko Sentral ng Pilipinas (BSP) Deputy Governor Francisco Dakila Jr. said the central bank does not target a certain level of exchange rate but is ready with its policy toolkit.
He said the increases in the central bank's key rates are primarily aimed at addressing the elevated inflation rate in the domestic economy, as well as addressing pressures on the local currency vis-a-vis the developments overseas, among others.
"This (the latest rate hike) adjustment shall help alleviate some pressures on the peso, which could, in turn, temper inflationary impulses stemming from elevated global commodity prices," he added.
Meanwhile, the Philippine Stock Exchange index (PSEi) slid further to 6,259.54 points, down by 0.67 percent or 42.17 points.
All Shares declined by 0.45 percent, or 14.95 points, to 3,341.29 points.
Half of the sectoral gauges tracked the main index namely Holding Firms, 1.10 percent; Property, 0.94 percent; and Financials, 0.88 percent.
On the other hand, Industrial rose by 0.45 percent, Mining and Oil by 0.20 percent, and Services by 0.19 percent.
Volume was thin at 491.33 million shares amounting to PHP4.83 billion.
Advancers led decliners at 95 to 92 while 42 shares were unchanged.
"Philippine shares closed below the 6,300 level on mounting recession fears after the Fed (Federal Reserve) delivered a jumbo rate hike and its pledge for more similar rate adjustments the other day," said Luis Limlingan, Regina Capital Development Corporation (RCDC) head of sales.
After its two-day meeting that ended on Sept. 21, the Federal Open Market Committee (FOMC) announced a 75 basis points increase in the Federal Funds Rate, the third since last June, which brought the total increase to date to 300 basis points or the Federal Reserve funds rate to between 3 to 3.25 percent.
The BSP's key rates have been hiked by another 50 basis points on Thursday, bringing the total increase so far this year to 225 basis points. Its overnight reverse repurchase (RRP) rate is now at 4.25 percent.
Both rate increases were primarily aimed at bringing inflation rate to the central banks' target level.
Limlingan also cited the reversal on global oil prices movement after it rose "on Russian oil supply concerns and a less-than-expected BoE (Bank of England) interest rate hike."
He said Brent crude oil futures rose by 0.8 percent to USD90.58 per barrel and the West Texas Intermediate (WTI) by 0.8 percent to USD83.69 per barrel. (PNA)