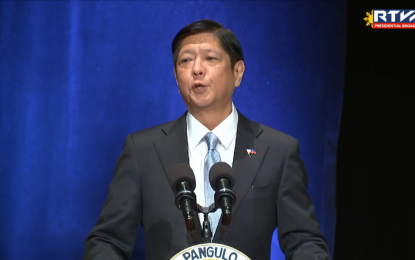 MANILA – President Ferdinand "Bongbong" Marcos Jr. on Saturday (Manila time) called for a peaceful resolution of conflict in the Taiwan Strait and Korean Peninsula, and between Russia and Ukraine.
Speaking before the members of Asia Society, Marcos urged the concerned parties to seek continued dialogue and observe maximum restraint.
Marcos said while the Philippine government adheres to the "One China" principle that Beijing follows, it also hopes for a peaceful settlement of the Taiwan crisis.
He was referring to Beijing's "One China" policy that there is only one Chinese government and Taiwan is part of China.
"In this context, we are certainly concerned about rising tensions in the Taiwan Strait, just north of the Philippines. We urge all parties involved to exercise maximum restraint. Dialogue and diplomacy must prevail," he said in a speech delivered at The Carlyle Hotel in New York City.
China has conducted military exercises near Taiwan and halted defense and climate change cooperation with the US, in retaliation to US House Speaker Nancy Pelosi's recent visit to Taipei.
Marcos also stressed the importance of taking up "confidence-building measures" in the Korean Peninsula to achieve peace and stability in the Asia Pacific region.
"And we are ready to play a constructive role in advancing a peaceful and denuclearized Korean Peninsula through confidence-building measures amongst the various stakeholders," he said.
North Korea's provocative actions and pursuit of nuclear weapons have threatened peace and stability in the Korean Peninsula.
On the Russia-Ukraine conflict, Marcos reiterated the Philippines' call for the two countries to continue adopting peaceful means to maintain international peace and security.
"The Philippines has voted in favor of the three UN General Assembly Resolutions on Ukraine," he said, referring to the resolutions condemning Russia's invasion of Ukraine.
Amid the recent developments, Marcos said the Philippines is committed to upholding peace and pushing for partnerships with its neighbors, especially the partners of the Association of Southeast Asian Nations (Asean).
"We will continue to work toward strengthening Asean, particularly its dialogue partnerships with neighbors that uphold regional peace and security," Marcos said.
"We think that these dialogue mechanisms and security arrangements should complement — not supplant — the Asean-centered regional security architecture as has been built over decades by the Asean and its member partners, as well as the existing network of bilateral security partnerships in the region," he added.
Peace and security took center stage in Marcos' historic speech at the United Nations General Assembly (UNGA) on Wednesday (Manila time).
In his keynote address during the opening of the 77th session of the UNGA, Marcos reaffirmed the Philippines' commitment to the fundamental principles of the United Nations of preserving peace, security, and stability among nations. (PNA)