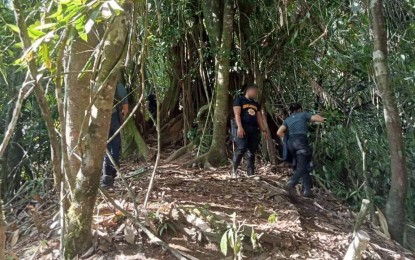 BUTUAN CITY – The body of a top leader of the communist New People's Army (NPA) in Surigao del Norte was retrieved by the 29th Infantry Battalion (29IB) of the 901st Infantry Brigade (901Bde) in Agusan del Norte.
In a press statement on Friday night, the 4th Infantry Division (4ID) identified the slain NPA leader as Rolando Rubilla "Edroy" Leyson Jr., 40, secretary of Guerrilla Front 16, North Eastern Mindanao Regional Committee (NEMRC).
"Troopers from the 29IB were conducting combat operations on Wednesday when they found the cadaver of Leyson (in Barangay Cuyago, Jabonga town)," the 4ID statement read.
Leyson was believed to have been killed during an encounter between the 29IB and NEMRC members on September 14.
"Apparently, the cadaver was dragged by his companions but was left behind to evade our pursuing troops," the 4ID said.
Brig. Gen. George Banzon, 901Bde commander, said Leyson had multiple arrest warrants for criminal charges, including arson, murder, attempted murder, attempted multiple murder, kidnapping, and serious illegal detention.
"Leyson is a notorious NPA leader in Caraga Region and his death could be the last straw that keeps the NPA rebels and they will eventually collapse," Banzon said.
He urged Leyson's wife, Juanita Pableo "Kikay" Saavedra-Leyson, another key NPA leader in the region, to surrender.
"Return to the fold of the law for you to have peace of mind, pay last respects, and properly lay to rest your late husband," Banzon said.
Leyson was the second top NPA leader in Caraga who died this month, following Noel Alacre (alias Megan), the commanding officer of Platoon 2, Weakened Guerilla Front 30, NEMRC.
Alacre's body was retrieved along a riverbank in Sitio Maitom, Barangay Mahanon, Tandag City, Surigao del Sur by the military and police on September 16.
Meanwhile, Nenita Generalao Dolera (alias Akira), the secretary of Guerrilla Front 19, Sub-Regional Committee Southland, NEMRC was nabbed in Surigao City on September 10; while Badong Gumansel Lipanda, commander of Platoon Banglas, Sub-Regional Committee 3, North Central Mindanao Regional Committee, surrendered to the 26th IB on September 17. (PNA)