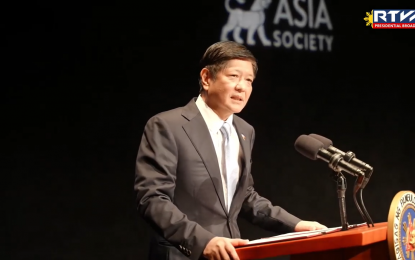 MANILA – The Philippine economy will go beyond its pre-pandemic growth, President Ferdinand Marcos Jr. said Friday (Manila time), as he confidently talked about progress amid the coronavirus disease 2019 (Covid-19) pandemic.
During his meeting with members of Asia Society at The Carlyle Hotel in New York City, Marcos said his administration has laid out measures that will help reinvigorate the economy.
"We don't want to just catch up. We want to go beyond that. We have no interest in going back to pre-pandemic levels. What we are interested in is to flourish further and to position the Philippines in such a way that we can take full advantage of the new economies and the new industries that have come to light," Marcos said in his speech.
Sustained cooperation and collaboration with the private sector and other governments would lead to the realization of his administration's bid to make the Philippines a new and transformed country, the President said.
He said the Philippines is a "viable and smart" investment destination, given its macroeconomic fundamentals, enabling policies, and human capital.
"They recognize the Philippines, our country, for its business-friendly policies, a very competent workforce, and a network of economic zones," he said. "These are interesting times and there are many things to accomplish. The far-reaching ill-effects of the pandemic compel us to reinvigorate our economies in a spirit of sustained cooperation and collaboration."
Marcos noted that the Philippine economy expanded by 5.7 percent in 2021 and 7.8 percent in the first half of 2021 because of government spending, household consumption, and investments reinforced by consumer and business confidence.
He also cited "investor-friendly" laws that seek to "leverage game-changing reforms."
Marcos told the group about the "young, educated, hardworking, and English-speaking" Philippine workforce that is globally competitive.
He expressed hope to get more investments for his administration's priority sectors, which include agriculture; nuclear energy; health systems; information technology and business process management; digital connectivity; and manufacturing, including the critical sectors of semiconductors, green metals, and electric vehicles.
"We must use public and private resources effectively to encourage the expansion of trade, investment, technology transfers, all to accelerate our development," Marcos said.
Despite the challenges caused by the Covid-19 pandemic and the global economic crisis, Marcos said the Philippines remains on track to "graduate to upper middle-income-country status" by 2023 and become a "high-income country" by 2040.
"With steady investments in infrastructure, agriculture, food security, public health, education, and other social services, we seek to become a high-income country, with zero extreme poverty by the year 2040," he said.
"Certainly, the world continues to be faced by enormous challenges, but I am confident in the future because I have 110 million reasons for being so. Such is my faith in the Filipino people and the relationship we hold with the United States and our other allies and partners and friends," Marcos added.
Asia Society is a nonpartisan, nonprofit organization that works to build bridges of understanding between the East and West.
Marcos is on the final day of his six-day working visit to the United States where he delivered a speech at the United Nations General Assembly.
Marcos also met with heads of state, including US President Joe Biden and Japan Prime Minister Fumio Kishida, as well as American business leaders from a wide range of sectors to yield investment pledges and bolster job creation. (PNA)