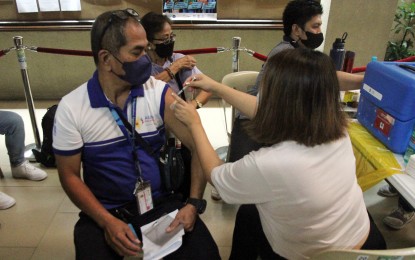 MANILA – The Department of Health-Center for Health Development (DOH-CHD) in the Calabarzon Region will further intensify its Covid-19 booster coverage with the "Bakunahang Bayan: PinasLakas Special Vaccination Days" in Trece Martires City, Cavite starting Monday.
Ariel Valencia, DOH-Calabarzon chief, said as per the directive of President Ferdinand Marcos Jr., they should continuously increase the number of Filipinos with booster shots.
"This is to help maintain the country's wall of immunity by vaccinating 90 percent of the A2 or senior citizen population, as well as increase booster dose coverage to 50 percent of the total target population before October 8, which marks the President's first 100 days in office," Valencia said in a news release Saturday.
The five-day event will be launched by Undersecretary Rosario Vergeire, DOH Officer-in-Charge, together with DOH-Calabarzon officials, other government and local officials, and representatives of the Philippine Medical Association, Philippine Pediatric Society, Relief International, ReachHealth Project of the United States Agency for International Development, World Health Organization, and United Nations International Children's Emergency Fund.
Among the vaccination sites are public markets and covered courts.
"Remember, we are still fighting Covid-19, so we should not let our guard down and the only way to do that is to follow the minimum public health standards at all times and get your primary doses of Covid-19 vaccines and booster doses," Valencia said.
The DOH has deployed 47 social mobilizers across the region – seven each in Cavite, Laguna, Batangas, and Rizal; 16 in Quezon; and three in Lucena -- to reach the areas with low vaccination coverage.
Meanwhile, there are 626 active vaccination sites in the region, 422 of which are fixed sites and 204 mobile (markets, malls, schools, workplaces, and passenger terminals).
As of September 19, a total of 2,839,240 are due for the first booster dose while 52,736 are unvaccinated senior citizens in the region. (PNA)