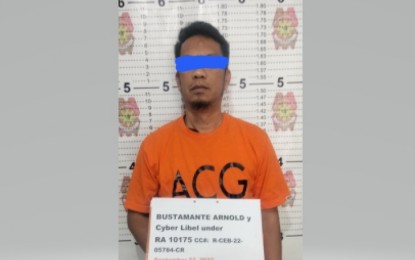 MANILA – The Philippine National Police Anti-Cybercrime Group (PNP ACG) agents have arrested a Cebu City broadcaster for allegedly spreading defamatory or libelous remarks against a business corporation on his online radio program on Sept. 23.
"The accused allegedly bad-mouthed and defamed the business corporation by faulting their product as fake and harmful to the public on his radio program. This incident prompted the company to file a case of libel against the broadcaster," PNP ACG chief Brig. Gen. Joel B. Doria said in a statement Saturday night.
He said the Regional Anti-Cybercrime Unit (RACU) in Central Visayas led by Col. Ferdinand S. Raymundo launched "Oplan Tracker" and successfully served the warrant of arrest against Arnold Bustamante, 46, native of Samal Island, Davao Del Norte and presently residing in Sitio Fatima, Barangay Apas, Cebu City.
Cebu's Regional Trial Court (RTC) Branch 11 presiding judge Ramon Daomilas Jr. issued the warrant of arrest on Sept. 22 and recommended a bail bond of PHP10,000.
Bustamante was charged with violation of Section 4 (c) of Republic Act 10175 (Cybercrime Prevention Act of 2012). He is now under custody of RACU-7 for booking and documentation prior to turning over to the issuing court for proper disposition.
"I commend the efforts of the operating teams in the successful police operations leading to the arrest of wanted persons in the Central Visayas Region," Doria said.
Meanwhile, Doria reminded the public to be thoughtful and prudent in their social media activities and "avoid posting defamatory or libelous remarks on various social media platforms." (PNA)