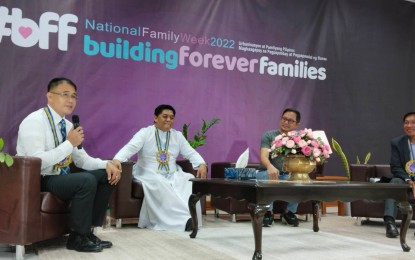 TACLOBAN CITY – As the country celebrates National Family Week, religious leaders here emphasized the need for real communication in families and responsible parenthood to address social ills.
The "Building Forever Families" interfaith forum held at Church of Jesus Christ of Latter-day Saints-Tacloban on Saturday emphasized that values should be taught in every home to deal with challenges confronting families.
"Take advantage of technology to connect with our families even if they are far from us. Sometimes we connect too much but we fail to communicate," said Pastor Jerry Yaokasin of Tacloban Christian Church.
Yaokasin, who served the city for nearly two decades as councilor and vice mayor, said family members should love their children unconditionally and lead them to become good persons.
Fr. Kim Margallo of the Catholic Church St. Teresa of Calcutta Mission Station in Palo, Leyte said "technology brings improvement, and the family should go along with these improvements."
"The more we become closer through technology, the farther that we become as a family. If there's no real communication, the family is devastated. Families don't talk to each other anymore because of too much use of technology," Margallo added.
Jhumer Operio, president of the Church of Jesus Christ of Latter-day Saints-Tacloban, said parents should face disagreements politely as a good example to their children.
"It doesn't matter if you are rich or poor for as long as your parents have harmonious relationship, children will be raised the way God wants them to be," Operio said.
Pastor Roy Moraleta of Potter's House Christian Church in Tolosa, Leyte said parents should set good examples to strengthen families.
"If they preach their children to be honest and faithful, it must be seen in their in their lifestyle and language. What they see from their parents is accepted as right by children," Moralita added.
Religious leaders agreed that good relationships at home will result in a harmonious society and eventually address social ills.
The celebration of National Family Week from Sept.ember 26 to October 2 is based on Presidential Proclamation No. 60 issued on Sept. 28, 1992.
It aims to increase awareness on various family issues; enhance effectiveness of efforts to carry out specific programs concerning families; and promote collaboration among organizations in support of multi-sectoral activities. (PNA)