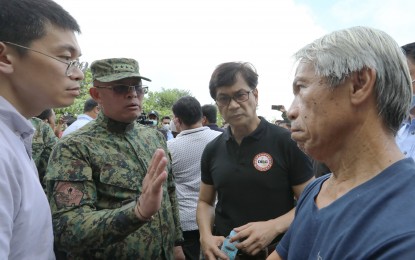 MANILA – Aside from cops, Interior Secretary Benjamin Abalos Jr. ordered the Philippine National Police (PNP) to look into the possible involvement of local government unit (LGU) officials in businesses being operated within the Masungi Georeserve in Baras, Rizal.
The directive came amid reports that active and retired officers of the PNP and LGU officials allegedly operate resorts and commercial establishments at the conservation area.
"Elected officials of the government and police officers are bound by their mandate to protect the environment. They should lead a good example to our fellow citizens and be part of the solution, not the other way around. Tayo dapat ang nangagalaga sa Masungi, hindi ang sumisira dito (We should be the one taking care of Masungi, not destroying it)," Abalos said in a statement on Sunday.
He visited the protected area on Friday along with PNP and Department of Environment and Natural Resources officials.
"We are here not to serve our interests and gain profits. We are here to serve the people," Abalos added.
Abalos said he expects the PNP to dig deeper into the allegations against its personnel and LGU officials and exercise due process in identifying illegal establishments.
"Hindi tayo papayag na kamkamin ito ng iilang tao. Kaya sa lahat ng magtatangkang magtayo pa ng negosyo at iba pang iligal na istraktura sa lugar na ito, binabalaan ko po kayo. Itigil n'yo na po ito dahil ipinagbabawal po ito ng ating batas (We will not allow it to be taken away by a few. So to all those who try to build businesses and other illegal structures in this area, I warn you. Stop because it's against the law)," Abalos warned.
He said all government entities must follow the directive of President Ferdinand Marcos Jr. to preserve the environment and protect it against those who seek to exploit and destroy.
"Companies who exploit our natural resources must follow the law. We all have the responsibility to preserve this Earth, for we are but custodians, and we will pass on this great treasure to future generations. There is no question that the preservation of the environment is the preservation of life," Marcos said in his inaugural State of the Nation Address in July.
He highlighted the same when he discussed climate change at the 77th United Nations General Assembly in New York last week.
"When future generations look back, let them not ask why we did not take this opportunity to turn the tide, why did we continue in our profligate ways, until it was too late? This threat knows no borders, no social class, nor any geopolitical consideration. How we address it will be the true test of our time," he said.
Abalos has ordered the PNP to establish a permanent encampment in the protected area to prevent infiltration of so-called claimants of Masungi and the protection of workers who claimed receiving threats.
The Masungi Georeserve Foundation thanked Abalos and PNP chief Gen. Rodolfo Azurin Jr. for being "champions" who are "firmly on the side of environmental protection and the safety of its defenders."
The PNP will implement sustained police presence at the Masungi Georeserve, Azurin said.
"If there is a need to put up a detachment po dito (here), maglalagay tayo ng permanent detachment dito (we will put up a permanent detachment here), ready to respond to any call of Ben Dumalya," he said in a previous interview.
Dumalya is the president of the Masungi Georeserve Foundation.
The PNP earlier said it is looking into the possible involvement of retired or active police officers in last weekend's standoff at the Masungi Georeserve where armed men encamped and caches of weapons were discovered. (PNA)