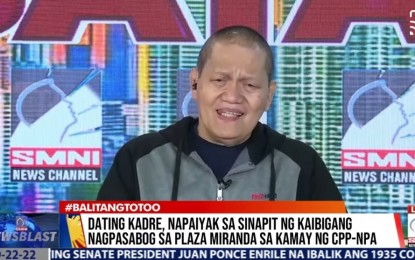 MANILA – A former New People's Army (NPA) rebel claimed that his best friend, a fellow insurgent named Danny Cordero, was allegedly ordered by Communist Party of the Philippines (CPP) founder Jose Maria "Joma" Sison to lob the grenades on the political gathering in Plaza Miranda, Quiapo on the fateful night of Aug. 21, 1971.
Peter Mutuc, also known as "Ka Ramon" made this revelation in an interview with SMNI on Sept. 22.
"'Kami ni Potro ang nag-itsa ng granada sa Plaza Miranda' (Potro and I were the ones who threw the grenade at Plaza Miranda)," he said, quoting Cordero during a conversation with him after the bombing.
He said an outraged and weeping Cordero told him that "Potro" was Cecil Apostol.
Mutuc said Cordero was so conscience-stricken that he wanted to take his own life because he could not accept that no less than Sison ordered the attack.
"Si Danny Cordero in particular, yung mainit na ulo niya, galit siya, parang naghahanap na siya ng gulo para mamatay siya. Parang gusto na niya magpakamatay. Hindi niya matanggap na nagawa niya iyon (Cordero in particular was so outraged and was looking for a way to end his life. He could not accept what he did)," he added.
Mutuc recalled that when he asked Cordero why he still complied with Sison's orders, Cordero told him: "ano naman ang magagawa mo kung ang kausap mo ang panginoon, si Joma. Inatangan ka ng diyos. (what can you do if your 'god' ordered you, it's Joma. Your god ordered you to do something)."
He also added that Cordero was executed shortly after the bombing, after he disclosed to some comrades that he was the one who threw the grenade at Plaza Miranda on Sison's orders.
Mutuc said Cordero was only around 22 to 24 years old and single at the time of the attack.
Mutuc narrated that on the morning Cordero was executed, he and some comrades were eating when a group of NPAs pushed him to the ground, tied him up, and led him away to a nearby river.
Cordero's cries of "Mga kasama hindi ako kaaway, hindi ako kaaway mga kasama (Comrades, I am not your enemy)" and "Mabuhay ang Partido Komunista ng Pilipinas (Long live the Communist Party of the Philippines)" were in vain.
'I want the people to know the truth'
Mutuc said he revealed his side of the story about the Plaza Miranda bombing in an effort to get closure.
"Ito po yung dapat magkaroon ng resolusiyon ito, ang nakikita kong resolusyon dito; pangalawa sa para maintindihan ng mga tao, yung mga kasama ko magsalita (First, I want this to have a resolution. Second, I want the people to know the truth)," he said.
The bombing, which marked its 51st anniversary this year, was consistently believed by Philippine security officials to be the handiwork of Sison. It left nine people dead and 95 others wounded.
The incident happened during a Liberal Party proclamation rally for its eight senatorial and Manila mayoralty candidates. As the event was about to begin, two hand grenades were hurled at the stage, ripping the speaker's platform.
Among those killed instantly by the blast were a five-year-old child and The Manila Times photographer Ben Roxas.
Wounded were then congressman for Palawan Ramon V. Mitra Jr., then incumbent Senators Jovito Salonga, Eddie Ilarde, Eva Estrada-Kalaw, Liberal Party president Gerardo Roxas, Sergio Osmeña Jr., lawyer Martin B. Isidro who served as councilor, vice mayor and congressman of the City of Manila, Ambrosio "King" Lorenzo Jr. who served as the second district councilor of Manila, and Ramon Bagatsing, the party's mayoral candidate for Manila. Salonga was among those seriously injured.
The blast left him blind in one eye and deaf in one ear. Small pieces of shrapnel remained embedded in his body until his death in 2016. Lorenzo was in a comatose for two weeks and lost sight in his left eye and hearing on the same side.
Bagatsing lost his left leg and suffered a crushed right cheekbone and a shattered right arm as a result of the blast.
Then president Ferdinand E. Marcos was initially blamed for the attack by the Liberal Party as he then suspended the privilege of the writ of habeas corpus.
He used the incident and other bombings along with the insurgents' botched arms landing of the M/V Karagatan on July 4, 1972 as his justifications for declaring martial law on September 21 of that year.
In 2018, then Defense Secretary Delfin Lorenzana also tagged Sison as the mastermind of the Plaza Miranda bombing after the CPP founder tagged the military for the murder of nine workers in a sugar farm in Sagay City, Negros Occidental.
"Yeah right! Coming from the mastermind of the Plaza Miranda bombing, the killing of hundreds of New People's Army (NPA) cadres suspected of being agents of the government, as well as assassination/killings of innocent civilians in the past 50 years?" he said.
Lorenzana also warned Sison to refrain from pointing fingers, noting that the CPP founder's "other fingers are pointing back at you".
"You have been unmasked as the man behind these atrocities by no less than your former comrades. Your psywar no longer works. Nobody, even your so-called fighters, believe you anymore," he added.
Lorenzana also said Sison is doomed to be consigned to the dustbin of history as a pathetic revolutionary failure, who has achieved nothing significant and instead brought bloodshed and suffering to the Filipino people.
Also in 2018, one of the CPP founding members, Ruben Guevarra, in a documentary produced by Sambayanan, tagged Sison as the one who gave the orders to throw grenades at the said gathering.
Oplan Big Leap Forward
"Ang Plaza Miranda bombing ay bahagi lamang ng isang serye ng kampanya na ginawa ng CPP. Ito'y bahagi nung sinasabi naming Oplan Big Leap Forward (The Plaza Miranda bombing is only a part of a series of campaign carried out by the CPP. This is part of what we call Oplan Big Leap Forward)," recalled Guevarra, who was also then part of CPP's Central Committee.
Guevarra said anyone who will reveal the CPP's involvement in the bombing will suffer the highest form of punishment in their organization but added that Cordero -- the leader of the group that carried out the bombing -- himself stood firm on the fact that it was Sison who gave them the order for the bombing.
Guevarra said the CPP also conspired with the government of then-Chinese leader Mao Zedong to wage an armed battle.
"Nung naipakita na namin yung umiral na yung revolutionary situation, may kakayahan na talaga na armado ang NPA na sumagupa, ipagkakaloob na samin ni Chou En Lai yung tulong na pinansyal at armaments (When we were able to show a revolutionary situation, and that the NPA was ready to go into an armed battle, then-Chinese Premier Chou En Lai would grant us financial help and armaments)," he said.
Guevarra said the fact that the communist struggle lasted for 50 years showed that Filipinos do not want the ideology.
"Huwag na tayong patangay diyan sa sinasabi ng mga komunista, limampung taon na ito (Let us not be swayed by the words of the communists, it has been 50 years), my God," Guevarra added.
Guevarra said the communist ideology is not the solution, as it destroyed the God-centered and family-oriented values of Filipinos. (PNA)