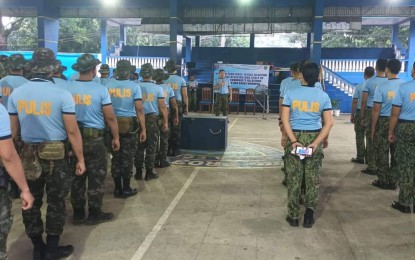 MANILA – The Philippine National Police (PNP) on Monday ordered a damage assessment on police facilities in areas hit by Super Typhoon Karding which pummeled Luzon on Sunday.
PNP chief, Gen. Rodolfo Azurin Jr., said they need to expedite the downloading of funds for the repair of affected facilities, assuring that there are available funds for the purpose.
Azurin also tasked the chiefs of police and other police commanders to check the status of their respective personnel to determine if they were affected by the weather disturbance.

"We also want to make sure that we take good care of our personnel. That's the reason why we need the reports of our personnel on the ground to know if there are PNP personnel who were adversely affected by this weather disturbance," Azurin said in a message sent to reporters.
For his part, Maj. Gen. Valeriano De Leon, chief of the Directorate for Information and Communication Technology and Management (DICTM) said they are now exploring ways to establish a reliable communication line even in the midst of typhoons, earthquakes, and other calamities to ensure strong coordination among police units for disaster response.
De Leon said a reliable communication system is essential among police units across the country in order to ensure the flow of orders and interoperability from the national headquarters at Camp Crame down to the police stations.
"On the ground, PNP officers are among the first responders in emergency situations. From pre-disaster preparations, such as preemptive evacuations, to post-disaster reaction, such as search and rescue and aid distribution, our people on the ground are frequently called upon to assist," de Leon said in a statement.
"It is therefore important that we have a reliable communication line so that whatever happens on the ground can easily reach the higher-ups for immediate guidance and response," he added.
Based on past experiences with typhoons and earthquakes, the necessary responses are usually delayed once the communication lines from telecom companies are damaged.
De Leon explained that time is an essential element in disaster response since lives are usually at stake.
"Our goal of having a reliable communication line even in times of disaster is actually aligned with the M+K+K=K program of our Chief PNP Gen. Azurin. This is not only integral to the disaster response but also in maintaining peace and order across the country," said De Leon.
"In these times when ICT is upgrading rapidly, the PNP must always keep up to ensure the delivery of services to the Filipino people, which we in the PNP vowed to do," he added. (PNA)