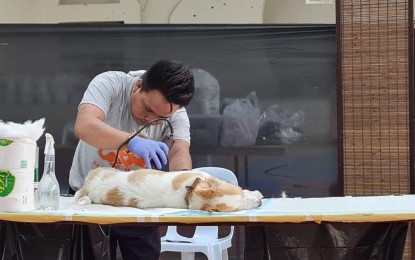 LAOAG CITY – The city government of Vigan through its City Veterinary Office is calling on all pet owners to bring their animals to the Regional Evacuation Center in Barangay Ayusan Sur, Vigan City on Sept. 30 to Oct. 1 for mass spaying and castration of dogs and cats.
In partnership with the Biyaya Animal care, various local government units in this northern part of Luzon launched the free "kapon" (neutering) project in support of the Ilokano dog and cat community.
"We continue to innovate and strive to look for ways to serve you better," said Vigan City veterinarian Rayeth Zheene Leigh Robeniol, inviting all responsible pet owners to pre-register until Sept. 29 and avail of the free castration and spaying activity, now on its second implementation this year.
Last June 2022, the City Veterinary Office reported a total of 331 dogs and cats were neutered at the Mira Hills Filipino-Spanish Friendship Park and Regional Evacuation Center.
Through the continuing implementation of the project, Robeniol hopes there will be lesser stray animals once the free kapon project will be made a yearly activity in the City of Vigan.
In Ilocos Norte, the same foundation also conducted a series of neutering activities in Pagudpud town on Sept. 25 and 26, then in this city on Sept. 27, and in Batac City on Sept. 28.
Provincial veterinarian Dr. Loida Valenzuela said Monday the organizers look forward to serve 500 pets per day on the said dates.
According to Valenzuela, animals have a better chance to live longer when spayed or neutered.
"When you spay or neuter your pet, not only are you giving them a better and healthier life. You are also doing your part in curbing the stray animal population," she said citing castration, spaying, rabies vaccination, deworming and vitamin supplementation, among others, will be provided during the said activities. (PNA)