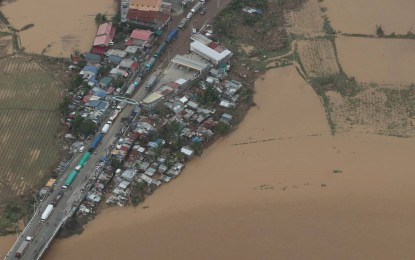 MANILA – Super Typhoon Karding has left an initial damage to agriculture amounting to PHP141.38 million before it weakened to a typhoon as it continues to move west northwestward away from Luzon on Monday.
The Department of Agriculture-Disaster Risk Reduction and Management Office (DA-DRRMO) said "Karding" left agricultural damage and losses in the Cordillera Administration Region (CAR), Ilocos Region, Central Luzon, and Calabarzon.
"Damage and losses have been reported in CAR, Ilocos Region, Central Luzon, and Calabarzon amounting to PHP141.38 million affecting 740 farmers, with the volume of production loss at 5,886 metric tons and 16,229 hectares of agricultural areas," the DA-DRRMO said.
The figures are still subject to validation as DA continues its assessment.
"Affected commodities include rice, corn, and high-value crops. These values are subject to validation. Additional damage and losses are expected in areas affected by [typhoon] Karding," it added.
Initial damage to rice sector was placed at PHP107.6 million; high-value crops, PHP24.55 million; and corn, PHP9.22 million.
The DA will provide 133,240 bags of rice seeds, 5,729 bags of corn seeds, and 4,911 kilograms of assorted vegetable seeds for affected farmers.
The usual aid to affected farmers and fishers is set to be provided including livestock and poultry drugs and biologics, fingerlings, implementation of Survival and Recovery Program, and utilization of the DA's PHP500-M quick response fund.
Early preparation
Meanwhile, the National Irrigation Administration (NIA) said early preparation helped lessen the impact of the super typhoon on irrigation infrastructures.
In a hybrid press briefing, NIA Administrator Benny Antiporda said their team has closely monitored the inflow and outflow of dams in areas hit by "Karding."
"Based on the outcome, the results of the actions of NIA, wherein all the people have work, shall I say 36 hours already in preparation for this Typhoon Karding. That's the reason, we can say, that the damage to properties and of course, lives, have been lessened," he said.
Antiporda said among the NIA's proactive measures include modification of Magat's dam protocol in releasing water, and close coordination with the Philippine Atmospheric, Geophysical and Astronomical Services Administration (PAGASA).
As of Monday noon, the NIA has reduced the gate opening of the Magat dam in Isabela from one meter to 0.50 meter, with an estimated volume of 87 cubic meters per second.
The set spilling level of Magat dam is at 193 meters, which as of 6 a.m. Monday, reached 186 meters.
Antiporda said the NIA will "defer the termination until further notice" considering the forecast rainfall. The Magat dam's gate was opened two days before "Karding" made landfall in Quezon on Sunday.
President Ferdinand Marcos Jr. earlier said the NIA and Metropolitan Waterworks and Sewerage System (MWSS) should "take caution in releasing water" from Ipo and Magat dams to prevent massive flooding.
Marcos also conducted an aerial inspection to assess the damage left by "Karding." (PNA)