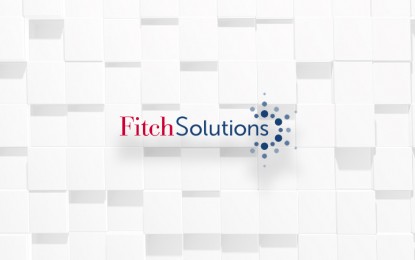 MANILA – Elevated domestic inflation, weakening of the peso, and expected additional hikes in the Federal Reserve funds rate are factors expected to push the Bangko Sentral ng Pilipinas' (BSP) key rates higher to 5 percent by end-2022.
Fitch Solutions, in a report dated Sept. 23 and released to journalists on Monday, adjusted its forecast for the BSP's key rates for this year after noting that monetary authorities also need to anchor inflation expectations.
"The Philippine peso has also come under significant pressure as a result of tightening credit conditions globally. With the US Fed (Federal Reserve) likely to hike by a further 75 bps before end-2022, this will likely prompt the BSP to hike in tandem to safeguard external stability," it said.
To date, the BSP's key rates have been increased by a total of 225 basis points to 4.25 percent as of Sept. 22, with monetary officials saying that continued recovery of the domestic economy will help cushion the impact of the BSP rate hikes.
The rate of domestic price increases decelerated from a five-month climb to 6.3 percent last August after hitting 6.4 percent in the previous month, the highest since October 2018.
The average inflation to date stood at 4.9 percent, way above the central bank's 2 to 4 percent target band until 2024.
Monthly inflation rate breached the government's target band last April when it accelerated to 4.9 percent due largely to upticks in global oil prices.
Fitch Solutions forecasts domestic inflation rate to average at 5.6 percent this year.
It expects the impact of the ongoing Russia-Ukraine conflict to continue impacting food prices, which is also seen to be affected by adverse weather conditions in several food-exporting countries.
It added that while oil prices have declined, "they still remain elevated relative to 2021 levels."
Fitch Solutions said its Oil and Gas team projects Brent crude oil price to average at USD105 per barrel this year and by USD100 per barrel next year, higher than its USD70.95 per barrel forecast in 2021.
Amidst this background, it said the recovery of the domestic economy, which it forecasts to grow by 6.6 percent this year, up from 6.1 percent previously, is expected to provide the leeway for the rate hikes.
The peso has weakened to the 58-level against the US dollar, which Fitch Solutions said is the local unit's weakest for 18 years.
"If the BSP chooses to stand pat in subsequent meetings as the US Fed continues to hike, real interest rate differentials could widen in favor of the US and trigger capital outflows, exacerbating downside volatility for the peso," it added. (PNA)