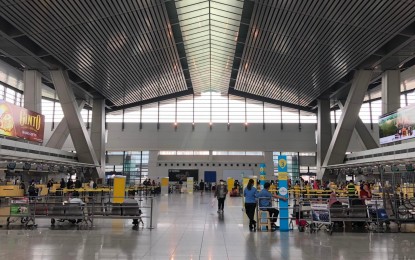 MANILA – No damage was reported in all terminals of the Ninoy Aquino International Airport (NAIA), and operations are now back to normal, the Manila International Airport Authority (MIAA) said Monday night.
"There are still flight delays as of 7 p.m. –a domino effect of flight cancellations/delays due to Typhoon Karding," MIAA told the Philippine News Agency.
The MIAA said a few trees along the road to NAIA fell but did not cause damage to the property.
Clearing operations were conducted at the airport's airside and landside.
Personnel were tasked to sweep the leaves and trash at the landside pavement.
Runways and taxiways were aso checked for any debris which could damage the aircraft or cause other serious safety concerns.
"We are thankful that our preparations led to uninterrupted airport operations, save for a few flight cancellations. No reports of power and water interruption as well as injury or damage to people and property was received, " MIAA general manager Cesar Chiong said in a statement.
A total of 61 flights were canceled while 166 were delayed on Sunday due to Typhoon Karding.
MIAA said some airline operators implemented a maximum of two-hour flight delays.
On Monday, flight cancellations totaled 41. Recovery and retimed flights were coordinated with the airlines.
Meanwhile, MIAA said passengers who opted to stay inside the terminals while waiting for the operations to normalize were provided with "malasakit kits" containing light snacks, bottled water, and sanitizer.
"There were no reports of observable passenger build-up inside check-in halls as they have been informed early by the airlines about the status of their flights," it said. (PNA)