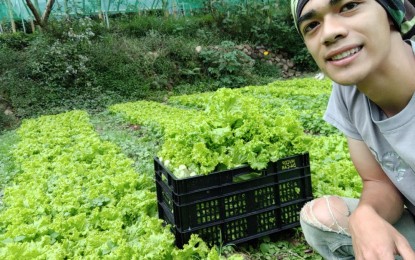 BAGUIO CITY – Agricultural production is expected to get a boost with the PHP200 million allocation for farm-to-market roads (FMR) in seven areas here.
Dr. Silardo Bested, chief of the City Veterinary and Agriculture Office (CVAO), in a phone interview Monday, said the seven FMRs that will be funded by the Department of Agrarian Reform (DAR) include the Santo Tomas Central to Western Link Circumferential Road at Santo Tomas Central and Proper; Sitio Mangitit, Camp 7; Balenben Road near the City's social development center in Irisan; Balenben Purok 12, Irisan; Aurelio Street, Dontogan; Pine Tree Alley, Asin Road; Sto. Tomas Central to Adiwang Road, Dontogan.
"These areas have been identified because there are already several agricultural areas and activities ongoing and we want that the farmers and producers will not have difficulty in bringing their products to the market," Bested said.
He added at least 3,000 residents, mostly in the mentioned areas have registered with the government's agriculture registry system as farm workers engaging in urban agriculture.
Bested said the sites were validated by his office and the City Engineering Office.
"The projects are expected to be completed in 2023," he said.
Bested said the allocation of an FMR for Baguio was in response to the city's request to the central office of the DAR.
This came after the city government formally recognized the existence of the agriculture sector and agricultural activities in this highly urbanized city.
"The request for funding assistance stemmed from dialogues with local farmers and agriculture sector stakeholders where the need for FMRs development projects was raised," he added.
Mayor Benjamin Magalong earlier said he wants to make the city the top producer and exporter of button mushrooms and high-quality strawberries with several residents already engaged in agriculture whether for personal consumption or sale.
He said that the city government had been holding dialogues in pursuit of good governance by promoting participatory governance and democratic involvement of all stakeholders including farmers and fisher folks.
As part of the goal to improve the sector, the CVAO, together with the city council, Department of Agriculture-Cordillera, and the agriculture stakeholders in the city conducted a coordination meeting for the possible framing of an agriculture development plan for Baguio.
Councilor Isabelo Cosalan, chairman of the committee on Agriculture, during the meeting, said "it has been a while since the city realized that agriculture can thrive in this highly urbanized city thru the concept of urban agriculture."
He said the development plan will be a roadmap that will guide the city's program as it gears to boost the sector. (PNA)