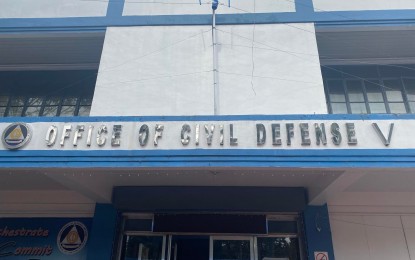 LEGAZPI CITY – Three out of six fishermen from Barangay San Roque, Mercedes town in Camarines Norte province who were reported missing last week have been found alive, the Office of Civil Defense in Bicol (OCD-5) said Monday.
Gremil Alexis Naz, OCD-5 spokesperson, said the situation report showed they were found in Barangay Butawanan in Siruma, Camarines Sur province.
The six fishers encountered bad weather while at sea and the three said they took shelter in the village but there was no information about the three others.
Naz identified those missing as Roger Pun-an, 59; Gerome Pun-an, 19; and Efren Lozada Jr., 42.
"They went fishing on Sept. 19 but failed to return to their residence as of the moment," he said. "We'll update, as soon as we get an official report from the provincial disaster risk reduction and management office of Camarines Norte," he said.
Meanwhile, OCD-5 said a total of 918 families or 3,686 individuals from the provinces of Camarines Norte and Camarines Sur were affected by Super Typhoon Karding on Sunday.
"Six hundred eighty-seven (687) families or 2,992 individuals are currently displaced or staying in 71 evacuation centers in Camarines Norte, while 43 families or 160 individuals are temporarily staying with their relatives or friends. While 55 families or 211 persons affected in Camarines Sur who have stayed inside seven evacuation centers have returned already to their homes," the report read.
The provinces of Albay, Catanduanes, Camarines Norte, and Camarines Sur suspended classes on Monday due to inclement weather. (PNA)