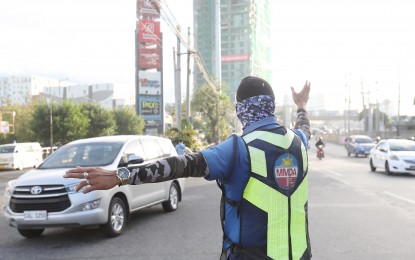 MANILA – The first day of the 55th Asian Development Bank (ADB) Annual Meeting of the Board of Governors in Mandaluyong City on Monday was "peaceful and orderly" with smooth traffic, according to the Metropolitan Manila Development Authority (MMDA).
In a statement, MMDA Acting Chair Carlo DImayuga III said MMDA personnel, along with the Philippine National Police (PNP), will continue to monitor the ADB event at its headquarters in Ortigas Center from Monday until the event ends on Friday.
"The collaboration of the PNP, MMDA, and concerned local government units has resulted in peace and order in the area that would boost both economic activity and tourism in the National Capital Region (NCR)," Dimayuga said.
At least 350 delegates from member-economies of the ADB and government agencies are expected to attend the event along with several heads of state.
"We want to offer the ADB delegations a good and secure stay while hosting the annual meeting," he said.
Around 500 MMDA personnel have been deployed along the ADB-dedicated route to help delegates move from the airport to their hotels, venues, and other engagement areas "at the least inconvenience to the general public."
"[We] are in charge of traffic management, closed circuit television (CCTV) monitoring, emergency preparedness and response, road safety, road clearing and cleaning operations, and flood mitigation," he said.
An ADB special lane was also setup along Saint Francis and Bank Drive to be used on Wednesday and Thursday.
"The EDSA Busway Carousel Lane was also utilized in the primary routes of the delegates' convoys," he said.
To provide emergency assistance, the MMDA road emergency group, the Office of Civil Defense, the Department of Health, and Bureau of Fire Protection are on standby in these areas.
Traffic personnel from the PNP, Mandaluyong, and Pasig local government units, and the security forces of the Ortigas Center have also implemented traffic directions and control along the ADB routes.
Early in May, the ADB Board of Governors held the first half of the two-part 55th annual meeting where they approved the 2021 financial statements and net income allocation.
The meeting was split into two parts to help cope with the challenges brought by the Covid-19 pandemic. (PNA)