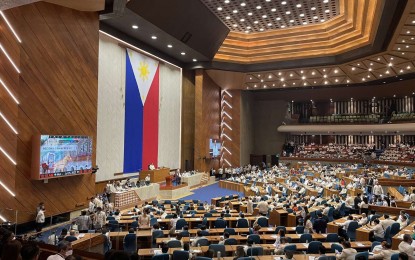 MANILA – The House of Representatives on Monday ended the plenary debates on the proposed PHP1.24 billion budget for the Office of the Press Secretary (OPS), including its attached agencies and corporations, for fiscal year 2023.
The OPS Proper would receive an allotment of PHP457 million, while its attached agencies and corporations would get PHP748.3 million.
In her manifestation of support, Rep. Marissa Magsino (Party-list, OFW) said the budget for the OPS Proper is a miniscule amount compared to the magnitude of responsibilities the OPS is vested with.
She said the role of the OPS assumes greater importance in the light of current prevalent misinformation campaigns by ill-motivated parties, especially those who aim to undermine the duly constituted authorities, that tend to confuse the people and manipulate public opinion.
Magsino described the OPS as the first line of defense of the presidency against this assault.
She expressed strong support for the approval of the OPS budget.
In his interpellation, Rep. Gabriel Bordado Jr. (3rd District, Camarines Sur) asked what the OPS would do to safeguard truthfulness and fairness of information given its plan to utilize social media practitioners.
He described social media as a breeding ground for fake news and misinformation with little or no checks and balances to ensure the integrity of data.
OPS budget sponsor Rep. Stella Luz Quimbo (2nd District, Marikina City) replied that the OPS would implement a unified messaging program within the executive branch.
"Magkakaroon ng vetting ang OPS bago maglabas ang mga government agencies ng kani-kanilang press statements (OPS will have vetting process before the government agencies would issue their respective press statements)," Quimbo said.
Deputy Speaker Vincent Franco Frasco presided over the hybrid session.
Agencies and corporation under the "supervision, control, and budget clustering" of the OPS include APO Production Unit, Bureau of Broadcast Services, Intercontinental Broadcasting Corporation, National Printing Office, News and Information Bureau, and People's Television Network. (PNA)