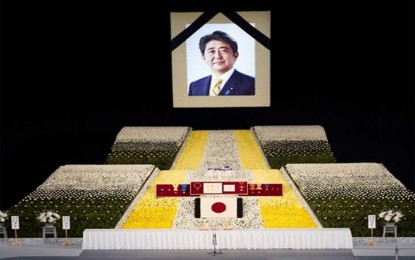 TOKYO -- A state funeral for former Prime Minister Shinzo Abe is set to be held in Tokyo later Tuesday, with more than 4,000 mourners in attendance, despite mounting opposition to the controversial ceremony for the country's longest-serving leader.
Ahead of the state-funded event, costing more than 1.6 billion yen ($11.2 million) in taxpayer money, calls have grown to cancel the ceremony as the legal basis is lacking to hold such a funeral, as well as due to Abe's complicated political legacy.
In the service at the Nippon Budokan hall starting at 2 p.m., Prime Minister Fumio Kishida and his predecessor, Yoshihide Suga, who supported the deceased leader for years as chief Cabinet secretary, are scheduled to give memorial addresses, respectively.
Among the more than 700 foreign guests are U.S. Vice President Kamala Harris, India's Prime Minister Narendra Modi and International Olympic Committee President Thomas Bach.
A private funeral for Abe took place four days after he was fatally shot during an election campaign speech on July 8 in the western city of Nara by a lone gunman. His remains were cremated.
Kishida swiftly decided to hold a taxpayer-funded funeral for Abe, but the premier has since faced harsh criticism for his hasty decision, pushing down the approval ratings for his Cabinet.
Opponents of the funeral have repeatedly held rallies in front of the prime minister's office, parliament building and elsewhere and filed lawsuits in some district courts demanding that the event be scrapped.
Abe, who died at 67, was prime minister from 2006 to 2007 and again from 2012 to 2020.
During the post-World War II period after 1945, Japan has only held a state funeral once. The honor was given in 1967 to former Prime Minister Shigeru Yoshida, who led the country's recovery from the war.
Opposition lawmakers have argued that there is no legal basis for staging a state funeral for a former prime minister, while questions have also arisen about how much Abe's event would ultimately end up costing.
Funerals for past premiers after Yoshida were mainly held jointly by the government and the ruling Liberal Democratic Party, which has been in power most of the time since its establishment in 1955. The funeral expenses were shared between both.
Kishida cited Abe's achievement of taking the helm of Japan for over eight years as one of the reasons for holding the state funeral, but political experts claim Abe's career has been contentious, especially in light of a series of favoritism allegations and other scandals.
What fueled the unwelcome trend was also a dubious relationship between the Unification Church, a religious group often labeled as a cult, and the LDP, which Abe headed.
Abe's attacker, Tetsuya Yamagami, has reportedly said he harbored a grudge against the organization and targeted Abe for his suspected ties to it. In 2021, Abe appeared in a video message aired at an event held by a Unification Church-affiliated group.
Nearly half of LDP lawmakers admitted to having had some connection with the organization, sparking fears that the Unification Church might have wielded influence in the political arena. (Kyodo)