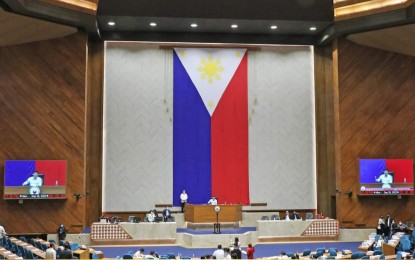 MANILA – The House of Representatives will wrap up plenary debates on the proposed 2023 national budget on Wednesday, a lawmaker said Tuesday.
"It is the second stage of the budget process where Congress members dedicate another pair of eyes to review the proposed budget. So far, we have terminated the debates for 61 agencies and constitutional bodies, leaving us with 14 more to deliberate," House appropriations committee vice chair and Marikina Representative Stella Luz Quimbo said in a statement during the Ugnayan sa Batasan forum.
"It is vital that the President has certified the immediate enactment of the 2023 GAB. Usually, bills go through three independent readings on three separate days. With the President's certification of urgency, mapapabilis ang proseso dahil hindi na kinakailangan ng hiwalay na second at third reading (the process will be expedited because the second and third reading don't have to be done separately)," she continued.
The House appropriations body expressed confidence that it is on the right track to pass the budget before Oct. 1, after which it will transmit the spending bill to the Senate, which has its own version.
Soon after, a bicameral conference will be had to consolidate the versions of each chamber.
The target is to pass the budget bill by the end of this year to avoid having a re-enacted budget.
"Kapag re-enacted ang budget, hindi mapopondohan ang mga bagong proyekto at programa. Mahirap ito lalo na para sa mga proyektong time sensitive tulad ng infrastructure construction. Hindi rin mae-expand ang mga programa para sa ayuda at health services na susi sa pagbangon natin mula sa pandemya (If the budget is re-enacted, new projects and programs will not be funded. This would be hard especially for time sensitive projects such as infrastructure constructions. Aid and health services programs which are our key to recovery from the pandemic will not be expanded)," she said.
A re-enacted budget would mean delays in the delivery of public services to the detriment of our people.
The National Economic and Development Authority (NEDA) estimated that in 2019, the re-enacted budget has resulted in the country losing 1 to 1.2 percentage points of the gross domestic product (GDP) growth.
"We may have been running on a tight schedule since the budget season started, but the appropriations committee led by Chairperson Elizaldy Co is elated that we have stayed on track," the Marikina lawmaker added.
Co, meanwhile, said their strategies in time management and maximizing communication channels between House members and agencies have been effective.
Since the debates started, he continued, the members have been staying in the plenary from morning till night and they promise to continue doing so.
Co added that while there may still be a lot of concerns that need to be addressed, he believes that the members are anchored to the same vision of passing a budget that is aligned with the needs of the districts and the marginalized sectors.
"Rest assured that we will pass the budget on time without compromising its quality. We will pass a 2023 budget that is geared towards economic recovery and inclusive prosperity," Co said. (PNA)