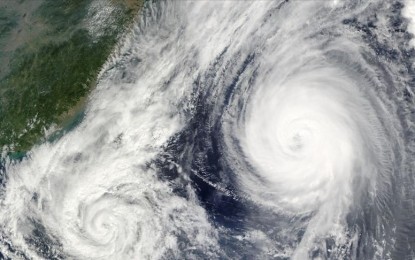 WASHINGTON – Much of Florida is bracing on Monday as Hurricane Ian continues to gather strength in the Caribbean ahead of making landfall on the US state's west coast later this week.
The storm has already been classified as a Category 1 hurricane, and it is expected to "rapidly" strengthen on Monday, according to the National Hurricane Center.
"Ian's" path and intensity remain in question, but its effects could begin to be felt on the Florida peninsula as soon as Tuesday.
Significant storm surge and winds are expected to affect western Cuba Monday night as the storm continues on northwest towards Florida.
"Ian" is currently packing maximum sustain winds hitting 80 mph (129 kph), and the National Weather Service is warning that Ian could bring "considerable flooding" to west central Florida, and additional "flash and urban flooding, and flooding on rivers across the Florida Peninsula and parts of the southeast cannot be ruled out for later this week."
"Ian" is expected to become a major hurricane by mid-week while it tears through the eastern Gulf of Mexico, and the National Weather Service warned that while much is still uncertain "there is a risk of life-threatening storm surge, hurricane-force winds, and heavy rainfall across the west coast of Florida and the Florida Panhandle by the middle of the week.
Florida Gov. Ron DeSantis activated the National Guard on Sunday, and teams have begun staging along the Florida coast.
The Federal Emergency Management Association (FEMA) approved on Saturday the governor's request for additional assistance to prepare for the storm.
DeSantis is expected to provide an update on the hurricane later Monday. (Anadolu)