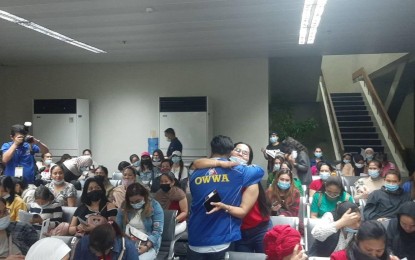 MANILA – The Department of Budget and Management (DBM) wants to ensure that distressed overseas Filipino workers (OFWs) are given sufficient legal aid under the Marcos administration.
In a press release, DBM Secretary Amenah Pangandaman said the government has allotted PHP1.2 billion for the AKSYON Fund of the Department of Migrant Workers (DMW), which will be used to help distressed OFWs in various countries.
"We know and feel the difficulties our kababayans face by being far from their loved ones and we continue to ensure that they will be afforded with the appropriate support they need," Pangandaman said.
The PHP1.2 billion AKSYON Fund is part of the DMW's Overseas Employment and Welfare Program, which has a PHP2.7 billion allocation.
Meanwhile, the DBM also earmarked PHP10.039 billion is for the Emergency Repatriation Program of Overseas Workers' Welfare Administration (OWWA). This amount covers a total of 367,287 OFWs.
"The program provides assistance in bringing back distressed OFWs and human remains back to the country. Workers are provided with proper help, temporary shelter at the OWWA Halfway Home, psycho-social counseling, stress debriefing, and transport services to their respective localities," the DBM said.
Other programs included in the DMW budget allocation for 2023 are the Overseas Employment Regulatory Program, Labor Migration Policy and International Cooperation Program, Maritime Research and Skills Competency Program, and Provision for OFW Hospital and Diagnostic Center under Overseas Employment and Welfare Program among others.
Under the proposed 2023 National Expenditure Program, the DBM has allocated PHP15.2 billion to the DMW.
Pangandaman noted that the Marcos administration recognizes the contribution of OFWs to the economy.
"Our OFWs are our modern day heroes. We honor their sacrifices, as they work hard to uplift the lives of their families and to enhance our country's economy through their remittances," she added.
In his recent trips to Indonesia, Singapore, and the US, President Ferdinand "Bongbong" Marcos Jr. placed meetings with OFWs on top of his agenda.
He also assured OFWs that his administration is doing everything to boost the economy and allow them to work in the country instead of abroad. (PNA)