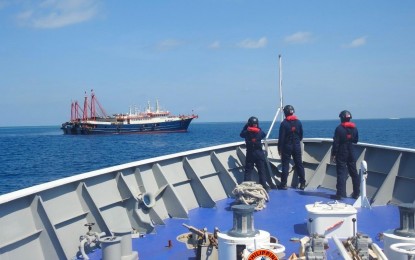 MANILA – Senator Robin Padilla on Tuesday called for better facilities for soldiers assigned in the West Philippine Sea (WPS) and requested the Department of National Defense (DND) to raise the allowances of members of the Citizen Armed Force Geographical Unit (CAFGU) who take on communist rebels in the countryside.
Padilla told the DND during its budget hearing that it should continuously boost the morale of soldiers detailed at the BRP Sierra Madre, an old vessel turned into an outpost to guard the Philippine territory in the WPS.
"Inikot ko po kasi ang mga isla doon, lalo din ang sa (BRP) Sierra Madre. Ganoon din po, kawawa sila doon. Sana rin gumanda ng kaunti ang kanilang tulugan doon (I have visited some of our islands there, including the BRP Sierra Madre. I hope the living conditions of our soldiers aboard will be improved)," Padilla said, referring to his WPS visit last year.
"Sa tapang at abilidad walang tatalo sa Pilipino, talagang tayo na. Wala talagang inaatrasan (When it comes to courage and ability, no one can beat the Filipino. We don't back down from anything)," he added.
Padilla also called for just allowances and benefits for CAFGU members battling communist insurgents and other terrorists groups.
He cited that former president Rodrigo Duterte issued Executive Order 110 in 2020 for the social benefits program of soldiers and cops who are killed, wounded or permanently incapacitated during legitimate operations.
Undersecretary Jose Faustino Jr., DND Officer-in-Charge, said they are implementing the law, changes, and improvements.
The DND's proposed 2023 budget of PHP240.7 billion include PHP3.829 billion for 69,938 CAFGU members that will cover the PHP4,500 monthly allowance and an added PHP2,000 as mandated by the past administration.
Padilla also asked the DND leadership to ensure benefits for soldier-athletes, especially the winners of international competitions. (PNA)