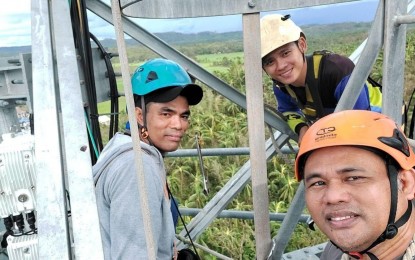 MANILA – Local telecommunications companies (telcos) are hard at work to restore service in areas that suffered the onslaught of Super Typhoon Karding, with some areas already fully restored.
In a service advisory on Tuesday, Globe Telecom Inc. (Globe) reported "100 percent" restoration in the provinces of Bulacan, Pampanga, Pangasinan, Tarlac, Zambales, Rizal, and Quezon -- including the Polillo Group of Islands -- and Metro Manila.
Globe said network services in Nueva Ecija, which is among the worst-hit provinces, are almost fully restored.
"Globe initiated field operations in storm-hit areas even while the effects of Karding still lingered on Monday, sending out technical teams who were prepositioned in areas on the typhoon's path before it made landfall," it said.
These teams, it said, were prepositioned as early as over the weekend in areas forecast to be affected by 'Karding'.
On the other hand, PLDT and its wireless subsidiary Smart Communications Inc. (PLDT-Smart) reported on Monday that Karding caused "minimal network disruption" that may result in some areas experiencing "quality issues."
"Based on the initial assessment of our team, the impact of Karding on PLDT and Smart's network is not as heavy and disruptions reported can be considered minimal. Our command center will continue to monitor the situation," said PLDT-Smart first vice president and group head for corporate communications Cathy Yang.
To ensure that customers continue to remain connected to their loved ones, both Globe and PLDT-Smart have rolled out free call and charging stations in areas affected by the typhoon. (PNA)