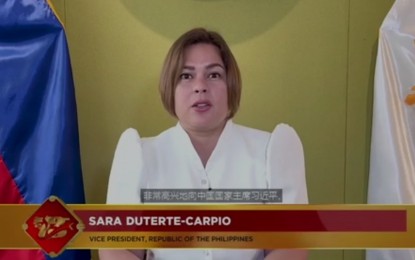 MANILA – China serves as an inspiration for a "tiger cub" economy like the Philippines, Vice President Sara Z. Duterte said in her greetings for the 73rd founding anniversary of the People's Republic of China.
In a speech during the virtual event also attended by First Lady Louise "Liza" Araneta-Marcos Monday afternoon, Duterte greeted Chinese President Xi Jinping, Chinese Ambassador to the Philippines Huang Xilian, and the Chinese people on their national day celebration.
She also expressed her high regard for the Asian "economic powerhouse" for its global performance despite challenges.
"Because of your contribution to the Asian economy, we are now the fastest growing economic region in the world. Thanks to China and its people, Tiger Cub economies, like the Philippines, are inspired to be more aggressive in our economic targets," she said.
Duterte noted that the celebration is more special as China and the Philippines mark the 47th anniversary of their diplomatic partnership.
"Philippines and China relations have soared and reached new heights under the guidance of former President (Rodrigo) Duterte and President Xi," she added.
She said the present administration is holding forth on a "positive momentum" on diplomatic ties with China, as it approaches its 50th year of partnership under the term of President Ferdinand Marcos Jr.
"We are grateful that China is a generous neighbor. We look forward to forging more partnerships and collaborations with you as we journey together towards achieving our sustainable development goals," she said.
New starting point
In his message, Huang said the relationship of China and the Philippines is now at a new "starting point."
He said China is ready to work with the Philippines to implement the consensus reached by Xi and Marcos "to follow through on the blueprint for cooperation to jointly usher a new 'golden era' in our bilateral relations."
"We should preserve the friendship between China and the Philippines. This is not only the common aspiration of the two peoples, but also the inevitable choice for common development. We should cherish what we have achieved, stay committed to friendly cooperation to ensure that our friendship will last forever," he said.
Huang said China and the Philippines should deepen mutual trust to ensure a solid foundation for their relations.
"We should focus on cooperation to ensure steady growth of China-Philippines relations," he said. "We should earnestly cooperate in the four key areas of agriculture, infrastructure, energy and people-to-people exchanges to enhance the sense of gain of our two peoples."
The two countries, he said, should also properly handle differences to remove interference from China-Philippines relations.
"We are neighbors that cannot be moved away and have every reason to live together peacefully. We should put our differences in a proper place and seek peaceful solutions through friendly consultations so that our overall relations will not be affected," he added. (PNA)