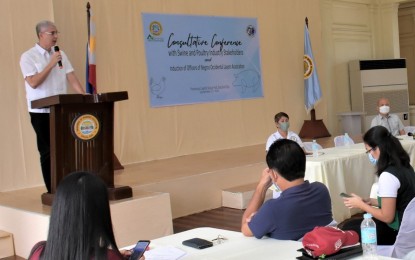 BACOLOD CITY – The Negros Occidental provincial government has renewed support for its PHP10-billion swine and livestock industries amid the continued threat posed by animal illnesses such as African swine fever (ASF) and avian influenza.
"For an agriculture province like Negros Occidental, the development of your sector is of primary importance," said Governor Eugenio Jose Lacson during the consultative conference with the industry stakeholders held at the Capitol Social Hall here on Tuesday.
Negros Occidental, which has a PHP6-billion hog industry, is the top backyard hog producer in the country and is also one of the top livestock provinces nationwide with its PHP4-billion livestock industry.
Lacson said the two animal industries are vital to food security, sustainable development, and people empowerment among the Negrenses.
The governor also underscored the provision of adequate technical services in animal health, livestock, and poultry production technology as well as animal products and by-products utilization for the development of these industries.
He noted that considering the extent of their industries, swine and livestock stakeholders are always significantly affected by government guidelines and procedures.
"May this consultative conference be an effective forum to resolve the concerns and provide clarifications needed on the requirement imposed by the Bureau of Animal Industry and the Department of Agriculture," Lacson said.
"May this also be a venue to find more effective ways to uphold the continued prevention and control of ASF and avian influenza infection in the province," he added.
For three years now, Negros Occidental has been prohibiting the entry of live pigs and pork products from Luzon, Mindanao and Eastern Visayas, which have confirmed ASF cases, to protect its multi-billion swine industry.
Since April this year, the province has also been enforcing a ban on the entry of live birds and poultry products from areas with reported bird flu cases.
Prohibited from entering the province are domestic and wild birds and their products, including poultry meat, day-old chicks, eggs, semen, and manure. (PNA)