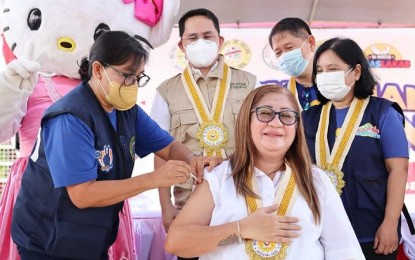 ILOILO CITY – The Department of Health regional office in Western Visayas (DOH-6) encouraged partner agencies and the private sector to help in the Covid-19 vaccination campaign during the launching of the Bakunahang Bayan: PinasLakas Special Vaccination Days in the municipality of Lezo in Aklan on Tuesday.
DOH-6 assistant regional director Dr. Ma. Sophia Pulmones, in her message during the launching, said the directive of President Ferdinand Marcos Jr. is to increase the vaccination coverage to 90 percent among senior citizens and 30 percent for booster doses by the end of his first 100 days, which is Sept. 30.
"As of now our coverage in the region for the booster doses is at 16 percent, so it means we still lack 14 percent for our booster doses," she said.
As of Sept. 27, fully vaccinated individuals in Western Visayas already reached 94.15 percent or 5,293,930 out of the 5,623,135 target eligible population while 912,102 or 16.22 percent received their booster shots.
For the elderly, of the 735,157 target eligible population, 77.25 percent are fully vaccinated and 24.98 percent have booster shots.
She said bringing the vaccination campaign to areas more accessible to the public, such as the Hello Kitty–themed park in Lezo is one of their strategies to boost the accomplishment rate.
"The purpose of this is to maintain our wall of immunity against Covid-19 since we realized and we know that as time goes by, our immunity wanes from this vaccination. Such that we need to get boosted for the Covid-19 vaccination. We are also prioritizing the A2 population because they are among the most vulnerable to develop severe Covid or eventually die from Covid-19," she added.
The local government of Lezo under Mayor Mary Lenette Fernandez has targeted over 600 individuals, both for the elderly and booster shots using Pfizer vaccines, and received incentives like school supplies for school-age children and groceries for the adult population vaccinees from the local government.
Dr. Lesley Ann Sedillo, Provincial Health Officer II of Aklan, said that Lezo, which has around 14,000 population, has an accomplishment rate of 94 percent for its fully vaccinated eligible population, 95 percent for partially vaccinated, 89 percent for senior citizens and 11 percent for booster shots.
The province of Aklan has an accomplishment rate of 96 percent for its fully vaccinated eligible population, 101 percent for partially vaccinated, 83 percent for senior citizens and 18 percent for booster shots. (PNA)