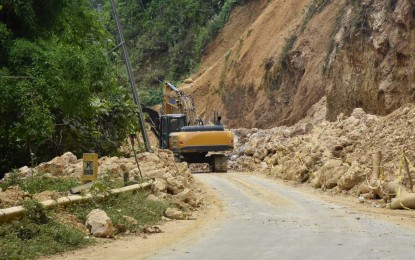 TACLOBAN CITY – The Department of Public Works and Highways (DPWH) is eyeing to protect 1.7 kilometers of road stretch in Eastern Samar from frequent rockfalls through a netting project.
The rockfall netting project will be the permanent solution to the closure of the Paranas-Taft-Borongan Road every rainy season, DPWH Eastern Samar district engineering office chief Margarita Junia said on Wednesday.
The 1.7-kilometer road section is within the road network that links the provincial capitals of Catbalogan City in Samar and Borongan City in Eastern Samar.
"These rockfall netting projects will provide a long-term solution to the recurrence of road closure due to landslides along national road in Taft and these will also assure the mobility of people, goods and services even during calamities," Junia said in a phone interview.
Rock netting on unstable rock faces and slopes is a way to contain and control rock slides, protect against the effects of erosion, and improve stability.
The DPWH said they still have to come up with an accurate cost of the project, divided into 17 contracts.
It initially started this month and will be completed in 2023.
Net installation is concentrated in the landslide-prone areas in San Rafael, Binaloan, and San Pablo villages, all in the town of Taft in Eastern Samar.
Clearing of obstructions and cutting of trees is
ongoing, subject to an inventory of the Community Environment and Natural Resources Office based in Dolores town.
"Pre-implementation phase was a long process since the site is within the protected area of the Samar Island Natural Park. We have to secure all needed permits," Junia added.
The slope protection projects aim to develop the stiff mountainous side of the road to trim it to a safer slope and to make it stable by the installation of netting to avoid rockfalls or erosions. (PNA)