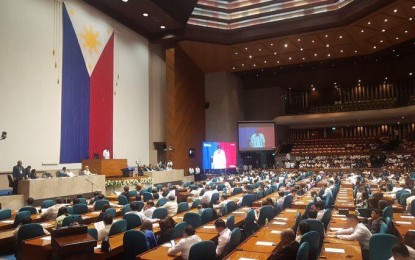 MANILA – An Ilocano party-list solon on Wednesday urged the House leadership and the Department of Transportation (DOTr) to fund the PHP340-million Vigan Airport Development Project in Ilocos Sur to fully complete the improvements in the airport and further boost tourism and connectivity in the region.
Ako Ilocano Ako Rep. Richelle Singson made the call to Speaker Ferdinand Martin Romualdez and Transportation Secretary Jaime Bautista after the budgetary allocation was not included in the 2023 National Expenditure Program (NEP) despite the proposal by the DOTr to the Department of Budget and Management (DBM).
"What was started must be finished. Otherwise, it would be a complete waste of government funds if the remaining portions of the project are not continued and completed. We cannot let this project be relegated as another failed infrastructure venture," said Singson, who is an architect by profession.
The Vigan Airport Development Project was launched on April 8, 2018. According to the Civil Aviation Authority of the Philippines (CAAP), other vital components of the project were already started, including the expansion of the passenger terminal building, construction of the administration building, and improvement of the vehicle parking area. The procurement of the runway site acquisition is also ongoing.
With about 88 percent of the project completed, CAAP said the PHP340-million funding will be needed for the immediate construction of a control tower building, power supply, and supply/installation of communications and meteorological or MET equipment (PHP120 million); and PHP220 million for extension and widening of the runway.
Being from the region herself, Singson said she fully understands the growing public disappointment over the non-inclusion of the budgetary allocation in the NEP "after eagerly expecting the completion of the improvement of the Vigan Airport."
"The completion of the project is crucial to the development of Vigan, a UNESCO World Heritage Site, and the whole of Ilocos Sur, as well as nearby provinces, as it will improve connectivity and boost tourism in the region," she said.
Data from CAAP showed that Vigan Airport registered 47,856 passengers in 2018, a more than triple increase from 14,645 passengers in 2016.
The Department of Tourism statistics also show that overnight travelers in accommodation establishments in Ilocos Sur reached 397,022 from January to December 2019 - 285,828 of them visited Vigan City.
"We deserve to fully reap the benefits of seeing a completed Vigan Airport. It cannot be another reason to limit the influx of foreign and domestic travelers who wish to experience the charm of Ilocos Sur and Vigan, which have tons of unique tourist spots, delicious food, and delicacies to share," Singson said. (PNA)