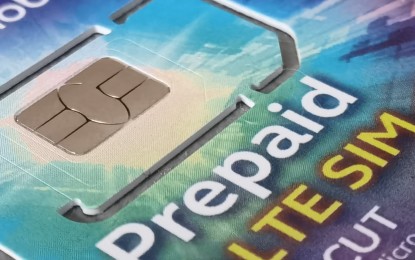 MANILA – Valenzuela City 1st District Rep. Rex Gatchalian on Wednesday hailed the approval of the proposed Subscriber Identity Module (SIM) Registration Act by the Bicameral Conference Committee, saying the bill, once finally signed into law, will eradicate "nefarious and fraudulent digital activities" aided by SIM.
The panel approved the measure Tuesday evening after deliberating on the disagreeing provisions of House Bill No. 14 and Senate Bill No. 1310.
Gatchalian, who is one of the principal authors of the consolidated House version, was also one of the House conferees in the bicam.
"With its imminent ratification by both Chambers of Congress, and hopefully its signing by President Ferdinand 'Bongbong' Marcos Jr. into law, the nefarious and fraudulent activities involving the use of SIM will soon be eradicated," Gatchalian said.
Foremost among the concerns raised by the chair of the House Committee on Local Government in pushing the bill are the countless victims of text scams and data breaches that led to the loss of their life savings.
"There are even those who threaten bodily harm or make ransom demands through prepaid mobile numbers," Gatchalian said. "It is in this context that we find it imperative to regulate the sale and distribution of these SIM cards by establishing a registry or database of validated information of its authorized owner."
The SIM Registration Act seeks to regulate the sale and distribution of SIM cards; promote end-user accountability; prevent the proliferation of mobile phone scams and data breaches, and assist law enforcement agencies in resolving crimes involving the use of mobile phone units.
Among the key provisions of the bill include the establishment of a system of registration of SIMs for all users by the submission of pertinent data electronically through a platform or website to be provided by the Public Telecommunication Entities (PTEs).
To regulate the registration and use of SIMs, all SIMs to be sold shall be in a deactivated state. It shall only be activated after the end-user completes the process of registration.
The registration shall carry the full name, date of birth, gender, and address of the end-user appearing in a valid government-issued identification document with photos such as passport, national ID, GSIS e-Card, digitized SSS ID, driver's license, voter's ID and Senior Citizen's card among others.
It requires end-users to immediately inform the PTEs through its facility, of any change in the information after registration, including requests for deactivation.
The bill also provides provisions of confidentiality and non-disclosure of information which prohibit disclosure of any information of a subscriber, unless upon subpoena by a competent authority pursuant to an investigation based on a sworn complaint, that a specific mobile number was or is being used in the commission of a crime or that it was utilized as a means to commit a malicious, fraudulent or unlawful activity.
The confidentiality clause in the SIM registration shall take effect at the point of activation.
The proposed SIM Registration Act likewise mandates the registration of all existing SIM subscribers. Failure to comply within the prescribed period stated in the bill shall authorize the PTEs to automatically deactivate their services to the specific existing SIM. (PNA)