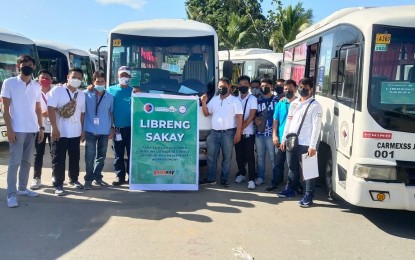 MANILA – Agri Party-list Rep. Wilbert Lee asked fellow lawmakers to restore the proposed budget of the Department of Transportation (DOTr) for its "Libreng Sakay" (free rides) program and the proposed allocation of the Land Transportation Office (LTO) to address its backlog on plate numbers.
Lee, in his interpellation on Tuesday, underscored the importance of the free rides program, noting that scrapping it during these challenging times would be a disservice to the millions of Filipino commuters who continue to benefit from the program.
"The 'Libreng Sakay' program extensively helps millions of our fellow Filipinos. Sa 'Libreng Sakay', natutulungan at nakikinabang hindi lang ang mga commuter, kundi pati na rin ang mga operator, driver at (Through the 'Libreng Sakay', we are able to help commuters, drivers, operators and transport cooperatives)," Lee said.
While admitting that free rides are not sustainable, Lee said this will cushion the impact of rising fuel prices that have affected the country's transport sector amid the coronavirus pandemic.
"On top of that, tuloy-tuloy ang paghina ng piso (The peso continues to weaken). A weaker peso leads to higher prices of goods and overall inflation. Once the cost of goods increases, ordinary citizens spend less on the basic necessities and food items. Wrong timing kung ngayon ititigil ang programang ito sa gitna ng lahat ng krisis na pinagdadaanan ng mamamayan at ng sektor ng transportation (Stopping this program in the middle of the crisis being experienced by the people and the transportation sector is ill-timed)," Lee added.
Lee manifested that he will introduce the amendments necessary to restore the PHP12 billion needed to continue the program, reiterating that it should continue at least until the end of 2023 for the benefit of the millions of commuters.
As of June 21, LTFRB reported that the program has served a total of 203.6 million passengers.
Lee, meanwhile, followed up on the vehicle and motor plate backlog, a standing program of the LTO since 2014.
For 2022, the LTO requested a PHP6.8-billion budget to address the backlog, but the Department of Budget and Management (DBM) slashed this to PHP4.7 billion, which is lower by PHP2.1 billion.
Upon Lee's questioning, the LTO said it still has a backlog of some 11.5 million plate numbers. It also confirmed that since 2017, the government has not allocated any funds for this.
Lee described the situation as "terrible", describing it as a disservice to vehicle owners who have already paid fees and have been waiting for their plate numbers for a long time.
"I'm seriously pushing that we fund this backlog on plate numbers because this is one of the important tools of the government for law enforcement. With the emergence of a number of crimes where escape vehicles are being used, lalo ngayong marami ang nauulat na kidnapping, malaki ang maitutulong nitong pagtapos sa backlog sa mga plaka (especially now that many kidnapping cases are reported, addressing this backlog on plate numbers will be of great help)," he added.
The LTO, meanwhile, committed that once its requested budget is provided, it can erase the backlog on plate numbers next year. (PNA)