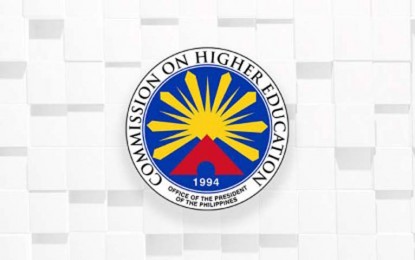 MANILA – The Commission on Higher Education (CHED) on Wednesday reminded higher education institutions (HEIs) to follow the agency's own guidelines on canceling or suspending classes.
The CHED made the statement after observing "confusion" caused by a portion of the recent Department of Education (DepEd) Order 37, Series of 2022, stating that state/local universities and colleges (SUCs/LUCs) have the "option to abide" by the DepEd guidelines.
Tertiary and graduate education in the country is governed by the CHED, while basic (primary and secondary) education is governed by the DepEd.
CHED chairperson J. Prospero de Vera III said SUCs and LUCs "have long been guided" by Executive Order 66, Series of 2012 and CHED Memorandum Order (CMO) 15, which both laid down guidelines on class suspension and cancelation.
"There appears to be confusion raised by the Department of Education (DepEd) Order No. 037, s. of 2022, stating that private schools, as well as state universities and colleges (SUCs) and local universities and colleges (LUCs), have the option to abide by the provisions of the order as to cancellation or suspension of classes and work in schools in the event of natural disasters, power outages/power interruption, and other calamities," he said.
De Vera said under CMO 15, classes, both in collegiate and graduate schools, are "automatically canceled or suspended," in areas where Tropical Cyclone Wind Signal (TCWS) No. 3 is raised.
Classes can also be suspended "at the discretion" of local government units or HEI heads, if there are "special circumstances" like flooding, impassable or damaged roads, among others.
"In case the local chief executives of an LGU canceled or suspended classes pursuant to this Section [of CMO 15], HEIs within the area should observe the same," de Vera said.
It also insisted that CMO 15 must be observed by all HEIs unless otherwise amended or revoked.
At the height of Super Typhoon Karding, TCWS No.5 was raised in Polillo Islands, the extreme northern portion of Quezon, the extreme southern portion of Nueva Ecija, the eastern portion of Pampanga, the eastern and central portions of Bulacan, and the extreme northern portion of Rizal.
Meanwhile, the northern portion of Metro Manila, along with other areas in Luzon, was placed under TCWS No. 4. (PNA)